On Saturday, March 11, 2017, Guyanese public safety scholar; Yeon Shirland Adams, graduated with a doctoral degree (Ph.D.) in Public Safety from Capella University in a simple, yet symbolic ceremony in Atlanta, Georgia.
Dr. Adams, a former member of the Guyana Defence Force Military Police Corp, Guyana Police Force and Professional Guard Services was one of 1,700 graduating students from Capella University.
His six years of study entailed research on many issues related to effective leadership and
administration of various public safety organizations; police, corrections (Prisons), courts, and emergency management. Dr. Adams culminated his studies with a 13- page dissertation (study) entitled: "A Phenomenological Study of Caribbean Police Collaborative Efforts" that explored the challenges to police cross-jurisdictional collaborative efforts in the Caribbean to effectively control transnational crime using a qualitative research methodology with a social constructionist and interpretive approach.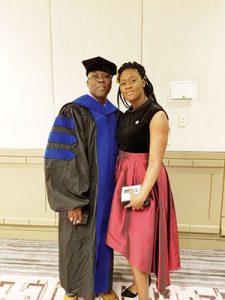 The study was unique as it was the first to document these challenges from a Caribbean perspective. One challenge outlined in the study; the lack of a regional arrest warrant, was discussed at recently concluded CARICOM Heads of Government Summit in Guyana. Moreover, the study offered many recommendations to improving police cross-jurisdictional collaborative efforts to control crime within the region.
Dr. Adams completed his Master of Arts degree in Criminal Justice with John Jay College of Criminal Justice in 2007, a Bachelor of Science in Computer Information Systems and International Criminal Justice at the City University of New York, CUNY Baccalaureate Program in 2004 and an Associate in Applied Science in Computer Application at Medgar Evers College in 2001.
Dr. Adams is currently a member of staff with the United Nations Office for the Coordination of Humanitarian Affairs in New York (the UN emergency response organization) and is now qualified to lecture undergraduate and graduate students in the criminal justice and its related disciplines.
He also mentors students and is active in Guyanese and international community-based organizations; Guyana Action Committee, Lions International, American Criminal Justice Association, National Organization of Black Law Enforcement Executives, Ex-Police Association of Guyana and the alumni association of Medgar Evers College, John Jay College and Capella University. He will also continue to conduct public safety research within the Caribbean setting as there is paucity in the literature.