THE mining town of Linden continues to grapple with garbage collection, solid waste management and effective garbage disposal. Linden Mayor, Carwyn Holland has often alluded to this issue, describing the Linden Mayor and Town Council (LMTC) as being 'handicapped' in this regard, with limited garbage compactor trucks, bins and other necessary equipment and resources, human and otherwise, to satisfy the solid waste management needs of the entire town, much more the communities gazetted under the Council.
The situation got a little better when the private garbage disposal and solid waste management company, Cevon's Waste Management, commenced operations in Linden.
Since 2014, the company has been charging households $1600 per month to effectively dispose of their garbage; and while hundreds of residents are benefitting from this private service, many who cannot afford it are still left to depend on the Council, which, according to one resident, is "totally unreliable".
ILLEGAL DUMPING
As a result of this perceived unreliability, several illegal dumpsites have begun to spring up across Linden, thereby creating a negative impact of the municipality, where cleanliness is concerned.
And while Cevon's may be doing a fairly decent job of collecting the garbage, there is still some amount of worry as to its mode of disposal, since the company has been directed by the local authorities to use the Dakoura dump site, which is in close proximity to the Dakoura Creek.
This practice recently came to the attention of the Environmental Protection Agency (EPA) and other environmental organisations, since the Dakoura Creek has long been a source of water, potable and otherwise, for some communities on the Wismar shore.
Residents of the communities at reference have time and again voiced their concerns about leaching and other environmental hazards associated with waste disposal.
Granted, the authorities have been making measured strides to put an end to dumping at Dakoura, but precious little has been achieved, since the deplorable state of the road to the Kara Kara dump site is making access to that facility difficult.
And whilst work on the access road has commenced, according to Mayor Holland, residents have been very vocal about the situation, especially in light of the pollution they've had to endure over the years because of the bauxite dust, which in turn has caused many to suffer from respiratory diseases.
Said one West Watooka resident: "For years we already had to deal with dust from the bauxite company, and while things have gotton better, we still dealing with it.
"Now, why do we have to deal with water pollution because of garbage dumping? We need to stop this!"
MAKING A DIFFERENCE
Rather than to sit and complain about the foregoing issues, some residents have been making strides to better the situation and are encouraging others to do likewise.
"One, one dutty build dam," posited Amelia's Ward resident Martha James, who has been taking a different approach to garbage disposal and solid waste management problem.
This septuagenarian has been practising effective waste management by separating the biodegradable waste from the non-biodegradable ones.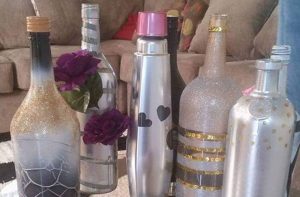 Biodegradable wastes, which consists of things such as vegetable peelings, meat trimmings and left-over food, are divided into two. "I normally take one set and put it in the compost heap, which helps with my little kitchen garden," Ms James said, adding:
"The other set I normally take and give a neighbour, who has pigs, as feed; in that way, I don't have to throw away anything that is biodegradable."
The non-biodegradable waste that cannot be recycled she gives to Cevon's, but those that can, such as empty bottles and containers, Ms James makes a special effort to deal with them herself.
She does so by either storing household items in them, or giving them to those in need of an empty bottle or two to put pepper sauce, seasonings and other condiments to sell or send overseas.
"I think it is a great initiative, and it has been working out fine for me," Ms James said.
"I encourage every other resident, not only in Amelia's Ward but all over Linden, to do likewise, rather than to dump illegally or burn their garbage," she added.
TAKING THE CREATIVE PATH
Another resident that is also keen on the environment is Geranne Rhius, who is using her creative skills to produce beautiful works of art out of sturdy glass bottles and containers rather than throw them away.
Geranne has been creating decorative ornaments out of these materials, and while she currently does it only as a hobby, she is hoping to soon begin making a business out of her creative and unique art work.
A teacher by profession, Geranne always knew she had a knack for art and craft, and seeing a way to put it to good use, she's decided to help our already ailing environment.
So, when she is finished drinking a bottle of wine, champagne or cider, she uses other raw materials that can be found around the home to create beautiful decorative designs on the bottles, which are then used for ornaments in the home.
Many of her friends and relatives' living room have sported Geranne's creations, which have saved them thousands of dollars. This publication has seen similar products selling in department stores for a minimum $10, 000.
"It doesn't take me long to create," Geranne said. "I would get the images, spray paint and sprinkles; I would use old music CDs, wall paper, appliqués from old clothing and other things around the house to do the designs."
She has a "thing" for the environment, Geranne said, so it pains her to see the very materials that can be used to create beautiful art work being discarded indiscriminately.
"All it takes is a little creativity; rather than discard it, we can recycle it," she said.
As a teacher, she recommends that more emphasis be placed on art and craft in schools, and this can have a ripple effect on saving our environment.
"The curriculum is merely academic-based; I don't think we are giving enough time to enrichment subjects, and the students are not really tested on creativity so to speak," Geranne said, adding: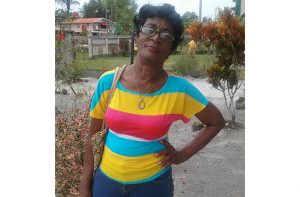 "So I think it is very important for our children to learn these skills."
Though craft is a hobby for the young mother-of-two, she is contemplating starting a small business with her décorative pieces, but fears that the support may very well not be there.
Geranne is of the opinion that Lindeners, and Guyanese by extension, do not value local art work, and would only purchase ornaments if they have a brand or tag on them.
"If it is made locally, they expect you to give it to them for free, because they do not think it has a lot of value," she opined, but is hoping that this mindset would soon change, and Lindeners support their own more, as it would not only aid in the town's economic development, but in restoring the environment as well.