She battled for the empowerment of women, literally risked her life and family fighting to save victims of Trafficking in Persons (TIP) and in the process has won the admiration of many near and afar.
With the recent commemoration of the United Nations International Women's Day, Natural Resources Minister, Raphael Trotman, has hailed his ministerial partner Simona Broomes, saying the Ministry is grateful for having "one of the most dynamic women in Guyana as a minister within our Ministry."
The relentless efforts of Minister Broomes have placed her in hearts countrywide as one of the most admired women in public life.
Minister Trotman, in an interview with Guyana Chronicle at State House Friday, credited her work again, this time calling her a "livewire" within his Ministry with a passion for people's rights.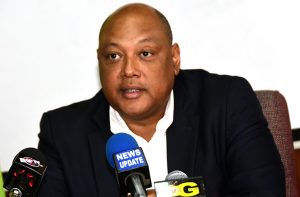 "I was actually saying to my staff on Wednesday that we need to celebrate the fact that we have one of the more dynamic women in Guyana as a minister within our Ministry. She has been a livewire and we celebrate her work," he told Guyana Chronicle.
Minister Broomes who is known as a tough woman even in Parent Teachers Association (PTA) meetings at her children's schools, shot to public recognition when she formed the Guyana Women Miners Organisation just over five years ago, fighting for the respect of women and girls in the mining industry.
She was recognised by former U.S. Secretary of State John Kerry, as a hero against TIP in Guyana.
In her efforts to bring down the scourge of human trafficking, she kicked down doors, cried bitterly and rescued girls as young as nine-years-old from death or further damage in the cruel hinterland sex trade.
After resigning from GWMO, she was appointed Minister of Labour, where she was nothing less than her compassionate self, fighting for justice of the workforce and putting systems in place to ensure a fair and just system.
She has, however, been transferred to the Ministry of Natural Resources, a kind of 'back-to-home' move by President David Granger in a familiar atmosphere as junior minister.
"And she's been going out even now organising at the grassroots level miners who have been denied — men and women — to give them a chance to partake in the patrimony. And so we laud her work, we celebrate her. We celebrate Minister Broomes' work and we give her our full support," a proud Minister Trotman said.
Additionally, his Ministry celebrates the obvious recognition that women have become more prevalent in the mining industry, and have become the backbone of the industry.
Minister Trotman recognised the changing roles of women in mining, but said the new leadership and membership of the GWMO is strong.
"We celebrate women in mining, women in forestry. I've met the Guyana Women Miners Organisation (GWMO) headed by a strong woman and a strong membership. I've met women who are mechanics, women who are engineers at Guyana Goldfields who operate heavy-duty equipment, so in our sector, women are the backbone of our mining sector (and) in forestry. They are not just cooking in kitchens, but they are operating heavy-duty equipment, they are down in the pit mining for gold themselves and tending to children and cooking in addition."