…First Lady urges greater self-belief, determination
GUYANA'S First Lady, Mrs. Sandra Granger, has been the embodiment of women's empowerment long before this administration took office.
However, the platform of First Lady has placed her front and centre in the advancement of female enfranchisement as leaders in today's society, and her work has been a continued reflection of her passion for the rights of women and girls.
Now, as the world celebrates International Women's Day, once more, the First Lady encourages women to recognise that they can achieve their greatest goals, so long as they believe it.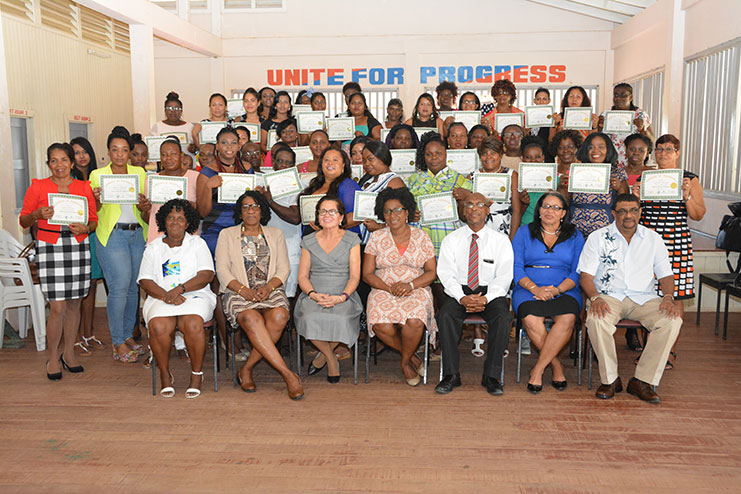 In an interview this week with 'Today's Woman', the First Lady said that she believes it is important for women to recognise their own value and to demand equal access to opportunities that are before them.
"There is nothing in the world to say that women can't do these things," the First Lady said. "Women need to know they are important, and that they deserve the same chance. Every child deserves the same chance, and it starts from education, right up."
SOUND BACKGROUND
In fact, the First Lady's own background is one which stands on a firm platform built on sound education, and which reflects her belief that women should strive to their highest.
After graduating from St. Joseph High School, the First Lady worked at Radio Demerara as a Script Director and Traffic Supervisor. Years later, Mrs. Granger completed her Degree in English Literature at the University of Guyana, and later earned a second Degree in Portuguese.
She taught at the Department of Modern Languages for some time, after which she was awarded a scholarship to the University of Pittsburgh, where she received her Masters in Latin American Studies, which focuses on politics, history and anthropology. The First Lady was also employed at the Caribbean Community (CARICOM) Secretariat as a Senior Programme Manager before going into retirement.
It was some years later that she joined her husband on the campaign trail in his bid for the office of President of Guyana.
Now, as First Lady of Guyana, Mrs. Granger uses the auspices of her office to undertake initiatives aimed at promoting the empowerment of women and girls in Guyana.
SELF-RELIANCE
One such initiative is her Self Reliance and Success in Business Workshop, which has been taken to women all across Guyana within the past year since its establishment. The Initiative has seen the training of over 300 women from all ten administrative regions in entrepreneurial skills, a move that encourages them to use the skills they have to ensure their own economic advancement.
Managed by facilitating company, Interweave Solutions, these week-long sessions provide training for women in business.
"At the end of it, I always try to ensure that the participants come out with what I call a bankable certificate. So the certificate the women get at the end of that is recognised by the Small Business Bureau, and by the lending agencies that would give loans or grants to people who apply for those kinds of support from them," the First Lady said.
Since the earliest observances of Women's Day in the 1900s, among the concerns that women have fought for was equality in the workplace. And, in light of this year's theme, "Women in the Changing World of Work: Planet 50: 50 by 2030" with the hashtag #BeBoldForChange, focus on women's rights in the workplace, and ensuring that they are afforded equal opportunities has become paramount.
The First Lady believes that while significant strides have been made in the workplace with regard to equality, some areas still remain uneven.
"Some places have allowed the females in the workforce to move ahead, but it is not across the whole economic sector," she said. "We did have a large number of women in the 70s going out and training to be plumbers and masons and electricians and that kind of thing.
"And through the GDF and the National Service, I know quite a few mechanics and women were trained in the so-called non-traditional skills. So there was some movement then; but I would like to see it happening again.
"I don't see so many women in the non-traditional sectors, and, if you think about it, this is where the money is."
SPECIAL SIGNIFICANCE
In light of this year's IWD theme, and the crucial time when opportunities are within our grasp, the First Lady also believes that the hashtag, #BeBoldForChange holds special significance, particularly for Guyanese women.
Touching on her memories of when she was a young adult in the 1970s, the First Lady said that she recalls that women were bolder, but that somehow, things have changed.
"Here in Guyana, I do not think that our young women are as bold as we were then, because we felt that we could do anything we wanted; that we could go to parties by ourselves.
"We didn't need anybody to carry us; we could have gone home by ourselves because we had our money, and we would go in a group, have fun and go home," she said. Asked what she thought the reason was for this change, the First Lady said that her impression was that, perhaps, it could be certain restrictions or social perceptions that contribute to some hesitancy for today's women.
"They may have the trappings of professionalism and things to show that they work for a good salary, but, somehow, I have found that… and my interpretation might be off, but I listen to them and I am sometimes concerned.
"But I don't know if it is because of their own environment, or society has changed to the extent where people feel that women are part of the decorative background," she said.
And this is why she believes that empowerment remains paramount, and why women need to be reminded of their worth and their ability to achieve anything they set their minds to.
'SPEAK UP!'
What is more, she said that to be bold means that women must speak up about things that affect them, be it inequality, abuse, or any other issue.
"Women have to become confident in themselves; that is the key to it. They must believe in themselves and in their own strength, and make decisions on their own; and that is what will take them forward," she said.
And, with women making up half of the country's population, it is impossible to ignore their needs. "I talk about breaking the glass ceiling, because sometimes, to this day, people still think of women being confined to particular fields of employment. We still have people who believe that the mother should stay home," the First Lady said, when in fact, working actually broadens their experiences.
"Women also bring a different perspective to everything," she said, adding:
"I am not saying employ them just for the sake of employing women; I want to know that these people are doing their jobs, and they also bring a women's perspective.
"But we are holding up our own development, because we are not recognising and utilising the skills and talents of half of our populations, hence this idea of gender parity."
The First Lady also provides assistance for teenage mothers who wish to go back to school.
"We help them to go back and complete their CXCs, and I am very happy to say that some of those young ladies have seen beyond that, and are thinking of professional life and what profession they want to take up after they would have finished," she said.
But to her mind, the most important aspect is allowing these vulnerable women to see their potential, and to see a future for themselves that can allow them to become successful.
She attested that some of these young women also go on to participate in other programmes that have similar benefits.