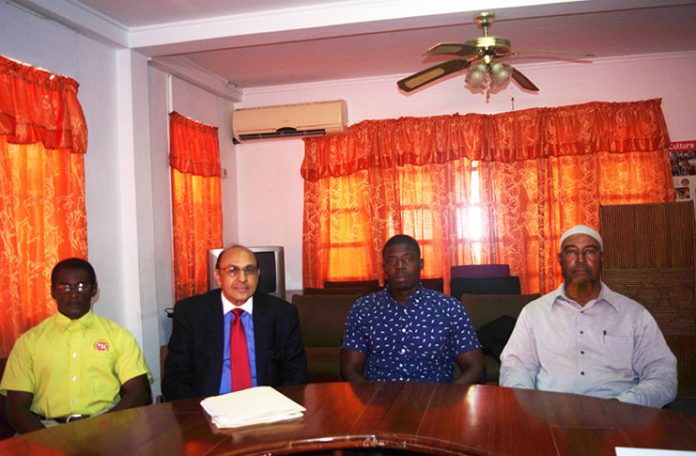 A TEAM of 18 participants and six officials across six respective sporting disciplines are set to make up Guyana's contingent at the Islamic Solidarity Games which will be held in Baku, Azerbaijan from May 12 to 22.
With six players, table tennis will have the largest number of participants, followed by athletics with four athletes. There will also be two swimmers, two judokas, two boxers, and two taekwondo artists.
This attendance will mark Guyana's third participation at the event in just as many hostings. Chef-de-Mission will be Ramjeet Ramphal, who will also be acting as the coach for the taekwondo team.
This was revealed by president of the Guyana Olympic Association (GOA) president K. A. Juman-Yassin yesterday, at a press conference held at Olympic House, High Street.
Coaches for table tennis, athletics, boxing and judo teams were present at the conference to give a little insight into how things are coming along for their teams.
Table tennis will carry a female team and a male team with three players each. The female team will comprise Chelsea Edghill, Trenace Lowe and Natalie Cummings, while the male players are Christopher Franklin, Nigel Bryan, Joel Alleyne with coach is Idi Lewis.
Lewis says he doesn't see the competition being easy for the table tennis team, but expects all the players to give a good account of themselves.
"It's an extremely competitive competition. There are a lot of world-ranked players, some ranked in the top 100, some ranked in the top 50, in the world. The team has been training very hard (though), so I look forward to great results from both teams. For the women's team the girls have been together for a while now, and they're exposed to some top class table tennis," Lewis commented.
The athletic team consists of recent scholarship awardees Natrena Hooper and Emanuel Archibald, both of whom are currently in Jamaica at the University of the West Indies, Olympian Winston George, and sprinter Alita Moore. Moore is local-based, while George is in the U.S. for training. The coach is Mark Scott.
Despite three of the athletes being overseas, Scott said that he is already in constant contact with all of the athletes, checking up on how they have been progressing so far for the season.
In the case of Moore, Scott said, that a special programme has already been put together for Moore, who is under the tutelage of Scott and coach Lyndon Wilson, both of the Police Progressive Youth who is Moore's
"We're going to try as much as possible to prepare these athletes," Scott said, "I've been following their training, and what they are doing out there.
Just recently I saw Natrena high jump 1.88m, previously she jumped 1.92. Emanuel he had a leap of 7.22m, and George just ran an indoor 300m, at present."
The boxers are 24-year-old Desmond Amsterdam and 21-year-old Joel Williamson, with coach Clifton Moore. The judokas are Joshua Buchanan and Erskine Trotman, chaperoned by coach Raul Archer.
The competition will see a comeback by senior swimmer Earlando McRae, who has been out of the works for a while. The other swimmer is Andrew Fowler, and the two will be accompanied by coach Stephanie Fraser.
The taekwondo athletes are Adrian Spellen and Jibreel Malik.
This year's team greatly outnumbers the seven-man team including two officials who attended the Games in 2013, when it was last hosted. George, a double silver medallist, will be the only repeating athlete on this year's team.
Yassin has pledged that the GOA will be looking to directly assist the athletes as much as possible, particularly as it concerns their nutrition.
"I would respectfully ask all the coaches if they could let us have a list of the nutrition they wish their athletes to have and we will endeavour to supply this, and we are working out a plan in which we would supply nutrition and other stuff to all our elite athletes and those on the threshold, but we need to get the cooperation from National associations," Yassin stressed.