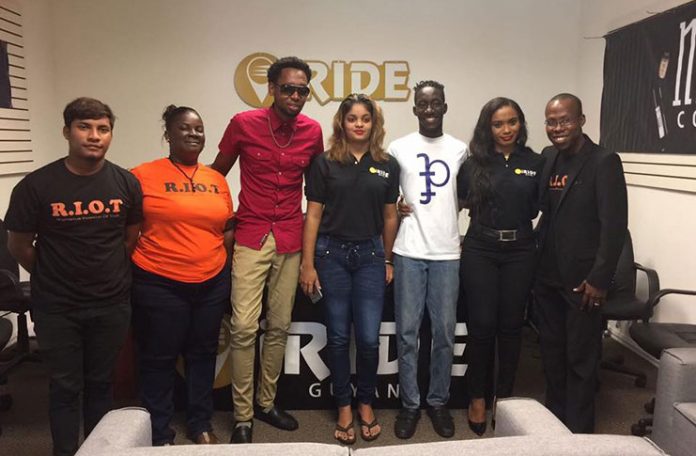 The Gospel Fest Team, Righteous Invasion of Truth International, in collaboration with several of the sponsors at the iRide offices on Wellington Streets, yesterday officially launched their "Love Over Violence!" concert which will be held Mash night, February 23, at the Cliff Anderson Sports Hall.The concert will be headlined by international gospel artist, Papa San, backed by an impressive lineup of local singers including Marlin Music Awards nominee, Samuel Medas, Shawn English, Seon Fraser, Glenn Tucker, and Jason Beaton, among others. English and Tucker were present at yesterday's launch to give a vocal snippet of what they will be showcasing come next week Thursday.
The concert is a continuation of the "Righteous Invasion of Truth: Way Up" concert that the organisers held last year November, and feature DJ Nicholas out of Jamaica, and Positive from Trinidad.
That concert focused on reaching out to the depressed and persons who were possibly contemplating suicide, with a positive message to "Say No to Suicide and Say Yes To Life". This time around, the concert will be focusing on gender based violence, hopeful that the message to stand up against the issue will be able to touch someone in the crowd and perhaps even save a life.
Chief organiser of the event is well known Pastor, Kwame Wilson of the Kaneville Full Gospel Fellowship, who spoke of how heartened organisers were at how big the last concert was and the lives it touched. "We had the first production, it was really awesome, just over 2,000 persons were there and many lives were transformed and many began to recognise the importance of living. This year we sensed God saying to go out into the community more," Wilson said.
Wilson says the church has a major role to play in helping to eradicate gender based violence, and this concert is just part of the package of plans that he hopes to collaborate with others, and put forth.
He hopes to target not only those abused, but believes that targeting the abusers also needs to be a part of the solution to the problem. "We are creating an environment in which the abused and the abusers can come forth," The youth pastor said.
Represenatives from Help and Shelter and Guyana Responsible Parenthood Association (GRPA) are also expected to take part in the upcoming concert. Next Wednesday, there is also expected to be a music workshop and meet and greet with Papa San, himself. This event will be hosted by Music Unlimited and held at the National Music School.The concert is being backed by a host of sponsors which include iRide, Ansa McAl, Eastern Airlines.