By Jasmaine Payne
Picture this: you wake on Saturday morning and set out to your usual errands down town, only to be accosted by the astounding sight of three women, dressed head to toe in high fashion, strutting down the street as though it were any other day. In tow, is a team of artists, led by designer Mwanza Glenn, whose work is on display, along with photographer Brian Gomes, makeup artist Mark Junor and a couple of dedicated volunteers who play an invaluable role to the project. They walk four corners, along Regent Street, past scores of stunned faces and shock-filled comments, before coming to a halt at Camp and Regent Streets. Fully prepared and camera set, they wait for the 'Walk' signal, and when it comes, those crucial seconds are used for photographer, model and designer to combine by capturing the perfect shot in the very centre of the street.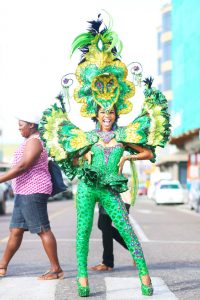 The finished product is a risqué display of fashion, in an unorthodox setting, with priceless public responses, but most of all, the occurrence has since awakened the curiosity of the public and has left Mwanza Glenn's name and work on the lips of many.
It is these "pop up shoots" that Mwanza believes could hold the key to revolutionising the local fashion industry, by bringing fashion from off the runways and straight to the people. "I think this could be a brand new type of marketing or at the very least, a way of making the public aware," Mwanza said, in an interview. "This is how you get more people to appreciate your craft, because then they get to see first-hand what we do…we decided to take the fashion to the public where they don't have to pay to see it in an enclosed environment…so they see the creativity of the designer and the confidence of the model."
What first started out as an experiment, turned into a successful venture; Mwanza said that he deliberately chose the location for the shoot to be the busiest junction in town, where hundreds of people would be present. Him and his team then dressed the models and led them on foot from his store on Regent Street to the shoot location in a deliberate attempt to advertise his brand. "They had passers-by in the buses and people walking who all wanted to know what's happening. They were asking all these questions. People stopped, pulled their cell phones out and started asking to take pics with models," he said. But among all of this, Mwanza said, the people were mostly curious about whose work it was and where they could find more. "You have a public that want to be involved and want to be educated. And when you have that, it is right there you have the opportunity to give them the information, to know who is behind this …of course there were persons who were surprised by the skimpiness but some were also very impressed by quality of work," he said.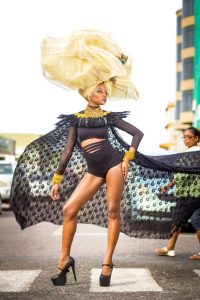 The shoot featured three main costumes that all bore a carnival theme, which was fitting given the approaching Mashramani season. One piece, which was modelled by Miss Guyana Talented Teen, Aliya Wong, and which she also wore during the pageant, was titled "Guyana; the Gem of the World" and depicted myriad symbols that represent the country. "I wanted to sell Guyana as a collection of gems; as a collective product and within the product you can find inspiration from our mineral wealth, flora fauna, forests, water and so on," he said.
The second costume gained inspiration from Mashramani and showed a bit more skin, while the third piece incorporated themes from Mwanza's niche. "It depicted a bit of my afro centric approach to fashion. It also holds Mash costume elements, but is a bit more covered with a magnificent headpiece. I wanted something that would create a high fashion impact," he said.
Seeing the real time response from live onlookers and how well it served for Mwanza's brand, he therefore intends to continue his "pop up shoot" idea on a monthly business while taking his designs to other popular locations. "This is another way of getting the word out and getting new clientele, so we will be visiting many more highly populated areas once a month," he said.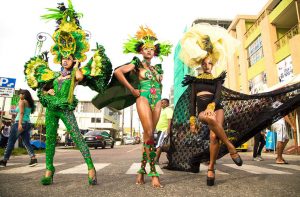 Most of all, however, Mwanza credits the work of the entire team, which he believes is key for producing high quality art in any form. "What artists fail to realise is that these things are never done by one man. A beautiful photo in Vogue magazine is the product of an entire team: a stylist, makeup artist hair stylist, photographer, art director. So artists coming together is important," he said. He therefore credits the work, dedication and combined vision of Brian Gomes as well as the effort of the Makeup artist, Mark Junor and the models Joy Alabi, Onesha Hutson and Aliya Wong for all helping to create a superb finished product. He added that he looks forward to many more collaborative projects. "To create that perfect look you need people, so any project that you want to be successful must be a partnership and so the collaborative effort of artists is crucial," he said.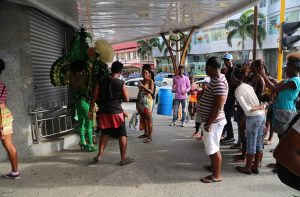 Mwanza is now also working on expanding his brand Wanza's Designs beyond Guyana's shores. He noted that it is difficult for local designers to have their work marketed but he is certainly willing to put in the work. "We can't reach our highest potential if the public doesn't appreciate it. To appreciate they must know about it. So that is on my agenda for this year. That is the plan for the brand. I have die hard clientele but you want clientele who don't know," he said.
And so, with his newest pop up shoot venture and his plan to take his brand to higher heights, Mwanza hopes that within five years his brand will be a well-known one in the Caribbean and beyond.