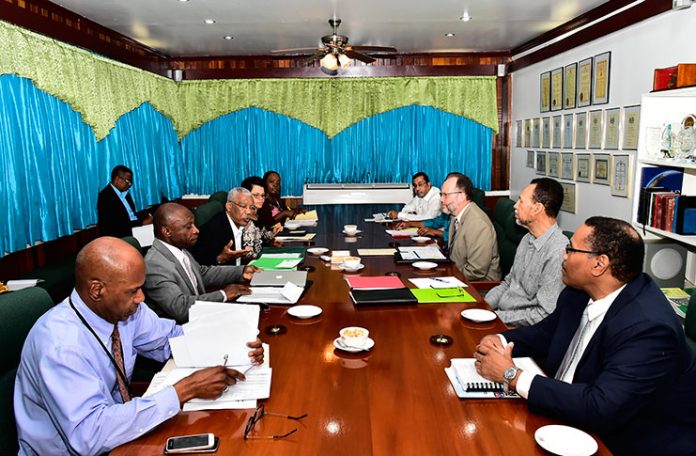 THE Conference of Heads of Government which consists of the Heads of Government of the Member States is the supreme Organ of the Caribbean Community (CARICOM) and determines and provides its policy direction. In addition to this function, it is the final authority for the conclusion of Treaties on behalf of the Community and for entering into relationships between the Community and International Organisations and States.
The Conference is also responsible for making the financial arrangements to meet the expenses of the Community, but has delegated this function to the Community Council. Decisions of the Conference are generally taken unanimously.
The current Chair of the Community is President of Guyana H.E. Brigadier David Granger who assumed chairmanship on January 1, 2017.
The Chairman's commitment
Assuming Chairmanship of CARICOM in January of this year, President David Granger of Guyana has pledged to continue to guide the community in the path of sustainable development. He has asserted that 2017 holds great promise for the region to advance its integration process which can only be possible through the involvement and participation of all.
He has since pointed out that this year marks the mid-point of the community's Five-Year Strategic Plan for the period 2015-2019 – a foundational element in the Community's Reform Process.
"That process is geared towards ensuring that our people feel the impact of the integration movement in their daily lives. Integration is not merely about systems and institutions. It is mostly about people," he has said.
In examining economic development in the region, President Granger announced recently that the level of manufacturing is very low than what is expected. He reasoned that a combination of the expertise and the capital that is available in the island states, particularly tourism combined with the resources of the larger mainland states, could have faster economic growth; and the people of the Community could enjoy a higher standard of living.
He contended too that the regional bloc has not been able to benefit fully from the single market.
"At present, I don't think we have benefited fully from the single market. There is still heavy penetration from major external manufacturers and this penetration is undermining local manufacturing capabilities and the very purpose for which the market was established," the Chair said.
And with CARICOM founded largely as an economic grouping, he said that it is time for the spotlight to be placed on economic integration.