AS part of its 10th anniversary celebration here, Digicel Guyana has embarked on a charity drive to 10 special needs schools and orphanages across the country with the aim of distributing much-needed items and also pledged its support towards addressing the needs of special-needs children. From January 31, the cellphone giant has been delivering the items which comprised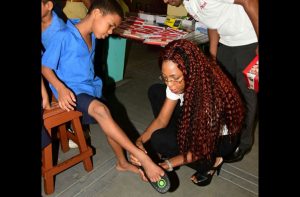 appliances, school stationery, school shoes, and food hampers to the New Amsterdam Special Needs School; Tuschen Deaf Academy; the Gifted Hands Special Needs School; St John's Boys Orphanage; the Diamond Special Needs School; Canaan Children's Home; Cheshire Home; Shaheed's Boys Orphanage; the Linden Resource Unit for the Blind and the Prabhu Sharran Orphanage.
The St John's Boys Orphanage was the first of several visits made by the mobile company. Head of Marketing, Jacqueline James, along with other members of staff were on hand to deliver breakfast, school shoes, school packs, school items, a washing machine and other supplies that were needed by the orphanage.
"We are happy to be here with you as we will soon be celebrating our 10th anniversary. We would like you to know that we are here to support you, young people and we will always be here to lend a helping hand," James told the small gathering. Following the simple handing-over ceremony, with the Orphanage's Director Sister Julie Matthews, Digicel's staff assisted the many children with finding the right sized shoes for their feet along with selecting backpacks.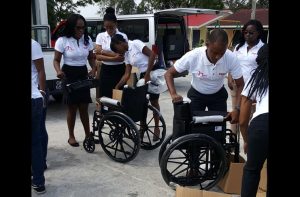 Meanwhile, nine other special needs schools and orphanages, including the Diamond Special Needs School, were visited and mobile aids in the form of wheelchairs, backpacks, food items, school supplies and a gas stove were presented to Head Mistress, Ms Wendy Grimmond.
Grimmond had indicated that it was the school's intention to begin a feeding programme for the students and in light of that, Digicel presented a new gas stove and food items, so that the programme can become a reality. Over at the New Amsterdam Special Needs School, staff of Digicel was greeted with many friendly, smiling faces. The students of that school were the recipients of a brand new sick-bay and several kitchen appliances.
"We were more than happy to take some time off to come and help where we knew our help was needed. Doing this today was something that all the staff enjoyed and we were happy that we could have spent some time with the students. Experiencing the joys on their faces as they saw the new space and as they hopped on the beds was all the thanks we needed," said Vidya Sanichara, Public Relations Manager.
The company also visited the Canaan Children's Home while in Berbice.
Digicel began its operations in Guyana in 2007 and since then has remained committed to its Corporate Social Responsibility (CSR) with specific emphasis on charity and special needs. Sanichara said special needs intervention is central to the company's mandate throughout the Caribbean and Central America and noted that Digicel is committed to enhancing the welfare of children with special needs within those territories.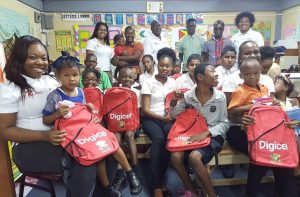 In addition to its charity drive, the company in celebration of its 10th anniversary intends to treat its customers. Ten lucky Facebook fans will win gifts based on the company's "Name your gift" social media promotion, whereby a gift request is made and Digicel grants the request. Additionally, 10 loyal customers, who have been using the company's service from 2007 to present will receive upgrades to their handsets.