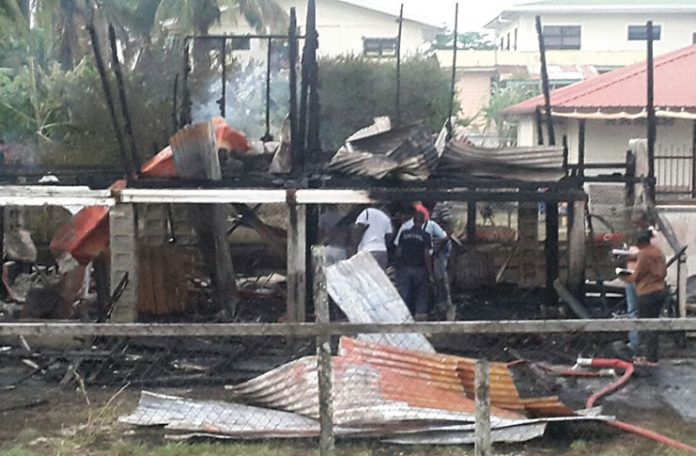 A POST MORTEM examination on the bodies of the three persons who died in a fire at Beterverwagting (BV), East Coast Demerara will be conducted on by Pathologist Dr. Nehul Singh in Georgetown.Early Sunday morning three persons were pulled out of their burnt out residence at BV Line Top by Police and Fire Fighters leaving the community in shock and with a common murder/suicide suspicion.
The dead are 36-year-old Lenard Pollard; his common-law wife, Latoya Telford, 26; and the last of their three children, 18-month-old Nakasia Pollard.
The Guyana Police Force 'C' Division Commander, Marlan Chapman, told the Guyana Chronicle Monday that his division, which is investigating the matter, has not made a conclusion on the cause of the deaths but police have not ruled out murder/suicide. He said a post-mortem examination is expected to be performed on the bodies Wednesday.
When asked if a rope was discovered around Pollard's neck, the Commander said all three of the bodies have been burnt beyond recognition and he had not received reports of a rope being discovered near the man's body. He also said that contrary to reports, Telford's body was not chopped to pieces.
Residents of the community however feel that this was no ordinary fire; that they rather suspect it was part of an elaborate murder/suicide plot born of jealousy, since the couple was having relationship issues, with Telford being accused of having an affair.
One eyewitness said the fire started around 02:45 hours Sunday in a bedroom and despite valiant efforts by neighbours they could not get into the house. Neighbours said no screams were heard emanating from the building even as residents tried to make their way into the home in the early stage of the fire.
According to relatives of the dead woman, Telford and Pollard had lived for years at the house. The couple was having problems and Telford had been asked by her mother-in-law to leave the premises with her children so that the woman's other son, Pollard's brother, could completely occupy the home.