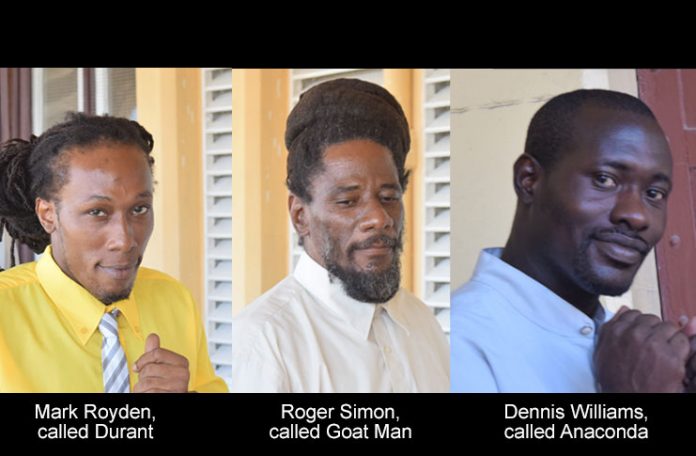 –was with him at Bartica, Lusignan and Christmas Falls
STATE witness Dwane Williams, called "Small Friend" and "Kussum", on Tuesday took the witness stand in the High Court before Justice Roxane George and a 12-member jury, where he gave a detailed testimony of the brutal killings in the Bartica Massacre.
Led by State Prosecutor Stacy Goodings, Williams told the court that back in February 2008 he was just 15, and used to live and 'lime' in Buxton. He was also a member of the Rondell "Fine-Man" Rawlins gang, as were "Papa Willie", "Mud Up", "Chung Boy", "Smallie", "Capone" and "John Eye". It was around that time, he recalled, that "Fine-Man" told the gang one night that he had "a wuk" for them to go on.
Williams said later that night, "Fine-Man" took the gang to the Buxton backlands where they camped out for two weeks; but following a shoot-out, they moved to the Nabaclis seawall. There they joined a boat occupied by one "Chi-Chi" and another fella named "Anaconda".
When asked by Goodings to identify the men at reference, the witness picked out Dennis Williams, called "Anaconda", and Mark Royden Williams, called "Smallie", who were in the courtroom, saying he'd known them both for about five years before the Bartica incident.
He recalled seeing "Smallie" in Buxton since he was a child going to school, and that from time to time, he and other members of the "Fine-Man" gang would send him to the shop to buy groceries for them.
CASUAL ACQUAINTANCES
Williams said he also knew "Fine-Man" for about five years as well, as he, too, used to be in Buxton; but they only spoke when "Fine-Man" wanted him to run an errand for him. He, however, said that he'd never seen "Chi-Chi" before he joined the boat at the Nabaclis seawall, and doesn't know him by any other name.
For that matter, he'd never seen "Anaconda" before either; and neither were they aware who the owner of the boat was, although it was "Chi-Chi" who manned it. Back then, Williams said, everyone referred to "Fine-Man" as "Saddist".
He then went on to describe the boat in which they travelled to Bartica, and the way they were all dressed: In dark, camouflage clothing, and each carrying AK-47s.
The haversack he was carrying, he said, contained biscuits, Tang drink mix, 300 rounds of "ammo" and some clothes.
After travelling upriver by boat all night, he said, around day-clean they stopped at an island, where they got off and went into the bushes and camped out.
The following night, he said, they set out for Bartica, but on the way there, the boat developed engine trouble and "Fine-Man" called a man to come and fix it, and bring gas.
It wasn't until the next day, he said, that they went to Bartica, where they moored at the stelling. Everyone, he said, got off the boat, except he, "Chung Boy" and "Mud Up", as "Fine-Man" had instructed that they stay behind and watch "Chi-Chi".
Among those who got off the boat and went into Bartica proper were "Fine-Man", "Capone", "Anaconda", "Smallie" and "White Boy", and they were all armed with guns. Then, about eight minutes after they left, he heard rapid gunshots.
Williams told the court that while waiting for "Fine-Man" and the others to return, they observed some people in a boat moored at the stelling. He said he and "Chung Boy" boarded the vessel, took the men off and ordered them to lie face down, on the stelling.
He said that it was at that point that they saw a police jeep drive up to the stelling and some 'rasta' men exit it. With them was "Fine-Man", who told him, "Chung Boy" and "Mud Up" to assist the men in placing the safes and guns that were in the jeep in the boat.
That done, Williams stated that "Fine-Man" then told one of the men lying on the stelling, who was of African descent, to get up and run, before shooting the rest of them in the head with a handgun.
CAMPED OUT
The witness stated that the gang then left the Bartica stelling, by boat, and went upriver to a place "with a junction and a trail" (Sherima Crossing), where he saw a dark jeep parked after they set the boat to drift.
He said that when they disembarked the boat, a man appeared from the bushes and drove them through the trail to Linden with the safes and guns and stopped at a camp for some time.
While at the camp, another man named "Shem" arrived with tools to open the safes, which were found to contain about $1M in cash, a bunch of keys, some documents, a bag of diamonds and three bottles of raw gold.
Williams said "Fine-Man" took the money and gave it to "Shem" to buy groceries and "ganja" and bring them back to the camp, where the gang spent "a good couple of months."
He said that after leaving the campsite, they went on to Ituni where they met up with Omani Rogers, "Shem" and one "Catty" and together they camped out for three months.
Then "Smallie" and "Fine-Man" had a falling out, so the former broke crew and left for "town".
AMBUSHED
Williams told the court that about three to four days after "Smallie" left the camp, it was beset by soldiers, and "Mud Up" was shot; but he, "Fine-Man", "Papa Willie" and "Chung Boy" somehow managed to escape.
He recalled that they were on the run for about 10 days when they saw a camp at Kwakwani Falls; they decided to spend the night there, and leave the next day but were captured by the police.
During re-examination, State Prosecutor Goodings asked Williams where he resides and he replied that he is still in police custody. She next asked whether he knew that persons would have been injured during the attack on Bartica, and he replied in the affirmative.
DEFENCE CROSS-EXAMINATION
When grilled under cross-examination by Defence Counsel, Roger Yearwood on Tuesday, Williams said that after he was captured and in police custody, he gave two statements on July 5, 2008.
He said he was assisted by a bulldozer operator while walking on the trail for nine days after he threw away his AK-47 because he knew the man would have been afraid of him, and also didn't want to be found by the police while armed.
Williams, when further questioned by Yearwood, said he threw away his gun because he wanted to get out of the backdam and "Fine-Man" was with the gang almost all the time and he was alone for one day before he was picked up by the police.
He added that at Christmas Falls, the police attacked the gang, and that was when "Mud Up" was shot and killed, and they got separated for a day and reached up with "Fine-Man" the following day.
When asked by Yearwood whether he told the police he was armed with an AK-47, he said yes; that he knew how to use that weapon very well and was good friends with "Fine-Man"; that at one time he even resided with him.
Williams told the court that he was afraid to get caught with the gun, because he knew he would have to go to jail for a long time as it relates to the Bartica incident, and he said he told the police that he was with "Fine-Man" at Bartica, Lusignan and Christmas Falls where 36 persons were killed.
He admitted that he was part of the "Fine-Man" gang; that he was charged for the 11 murders at Lusignan, but that those charges were withdrawn. He also admitted to being a witness in two identification parades held by the police.
Williams, when grilled further, stated that he never went to Bartica before that night, but that he had gone to Linden before, and that "White Boy" was not with them on the boat to Bartica, but met them there and while he was at the Bartica Stelling, "Fine-Man" returned first time alone and only one time the police vehicle came to the stelling.
He told the court that he was not promised anything by the police to implicate Mark Royden Williams, called "Smallie" but gave statements to the police of his own free will and he is not a 'free' person up to date.
During the morning period, Clebert Reece called "Chi-Chi" was cross-examined by Defence Counsel Saphier Hussain during which the court was told by the state witness that even though Dennis Williams had threatened to poison him, he doesn't hate him; that there is no 'bad blood' between them.
Reece said he testified because he wanted the state to know the truth of the story, and that everyone else in the group, but he, smoked. He never smoked in his life.
Under cross-examination by Defence Counsel Peter Hugh, Reece was asked if Roger Simon, called "Goat Man" was ever with the group that went to Bartica and he said he was never there.