The People's Progressive Party (PPP) is of the view that President David Granger's interpretation of Article 161(2) of the Constitution, which deals with the appointment of a new chair of the Guyana Elections Commission (GECOM), is flawed.
The Opposition Party also believes that the President's rejection of the list of nominees submitted by Opposition Leader Bharrat Jagdeo is a rejection of the voices of the various organisations that were consulted by Jagdeo.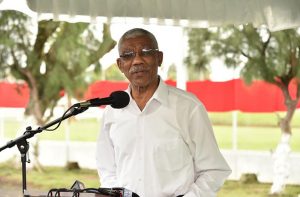 "Significantly, though the Opposition Leader was not constitutionally obliged to do so, he held widespread public consultations with almost every major representative organization in the country. It is these consultations which produced the list submitted by the Leader of the Opposition to the President. A rejection of this list is therefore a rejection of the voices of all these organizations. Is the President saying that all these organizations have interpreted the Constitution wrongly, and only his interpretation is correct?" the PPP noted in a statement Tuesday.
On Monday, by way of a letter, President Granger informed Jagdeo that the six nominees submitted for the post is unacceptable and urged him to submit a new list.
In his letter to the Opposition Leader, the President said that the CV's of the persons whose names were submitted "do not seem to conform to the requirements of Article 161(2)" of the Constitution, which states that only persons who are Judges, qualified to be Judges, or former Judges or, either a court having unlimited jurisdiction in civil and criminal matter or, a court having jurisdiction in appeals from any such court.
But the PPP in its statement on Tuesday noted, "…the President's interpretation of the Constitution is nothing short of a perversion of both the language and the spirit of Article 161(2). It cannot be justified in language, logic, law or, by the antecedent holders of the Office of Chairman of the Guyana Elections Commission."
According to the PPP, the very section of the constitution also speaks about "any other fit and proper person, to be appointed by the President from a list of six persons, not unacceptable to the President, submitted by the Leader of the Opposition after meaningful consultation with the non-governmental political parties represented in the National Assembly."
According to the PPP, President Granger is the first President who has ever rejected a list submitted by a Leader of the Opposition.
"This is not without significance. We think that this is the beginning of an elaborate plan to rig the next elections. We feel that the President is laying the foundation for the unilateral appointment of a Chairman of GECOM of his own choosing. Such an appointment will not only be unconstitutional but will certainly compromise the integrity of the electoral machinery."