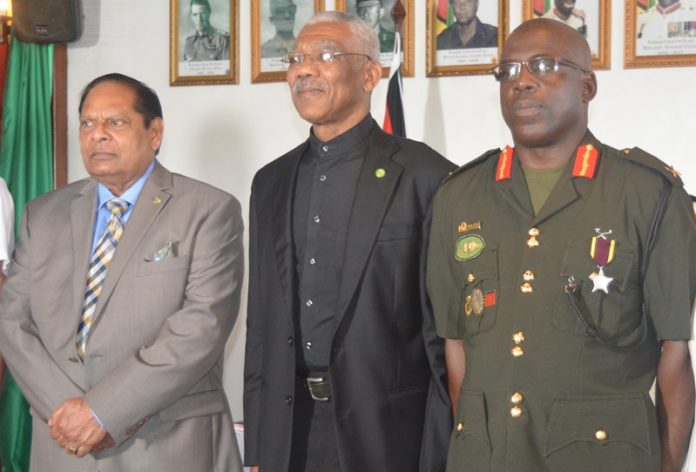 COLONEL Patrick West was promoted to the rank of Brigadier and appointed as the tenth Chief of Staff of the Guyana Defense Force (GDF) on Tuesday morning.
Brigadier West replaces Brigadier George Lewis; the ceremony took place at GDF's Mess Hall, Camp Ayangana. Lewis, who was Chief of Staff for just a few months, served the "shortest" tenure ever, said President David Granger during his presentation at the investiture ceremony.
This, the President stated, "represents a true process….the decisions of the Guyana Defense Board will ensure that Officers retire when they ought to and those who deserve to be promoted get what they deserve."
It was noted that Brigadier West completed his military training both locally and abroad and was deemed qualified for the post.
In 2010, Brigadier West became Guyana's first officer to have earned two masters degree simultaneously; one in Military Arts and Science and the other in Administration. That year he returned from the US where he attended the United States Army Command and General Staff College in Fort Leavenworth, Kansas and the Central Michigan University, through the bilateral co-operation agreement between the GDF and the US Military.
As such, West who served in the GDF for 33 years was given the Military Service Star (MSS) by President Granger for his longstanding work in the army.
When asked what his plans are for the Force, Brigadier West said that he intends to effectively transform the force for national defense, by exerting sheer professionalism in what he does.