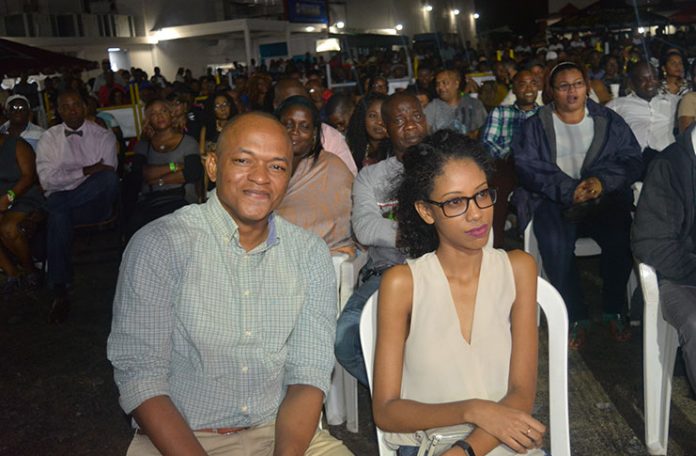 THERE was definitely no holds barred; no boundary known at Uncensored 8 last Friday night, where even former Deputy Mayor Sherod Duncan and Divisional Commander Clifton Hickens were the butt of some of the jokes, though the two were pretty good sports about it."Uncensored" was no place for the politically correct or easily offended. Some members of the crowd even came under fire, but everyone had a good laugh about it.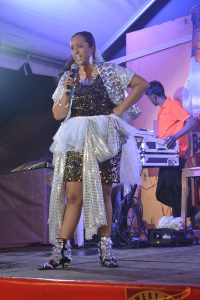 There was Sean Thompson in chic high heels, Michael Ignatius in pampers and a tie, and Chris Gopaul in red papal robes.
There were $5000 bills raining down on the audience, followed by actual rain. Lots and lots of rain! It started with intermittent drizzles; and then came the heavy downpour.
Suffice it to say that holding an open-air show at the Giftland Mall parking lot in December, in Guyana, is a very, very bad idea.
But many of those diehard "Uncensored" fans, who came out in their numbers, refused to let the rain get the better of them. And, astoundingly, there was still quite a number of persons that stayed on, even after a big downpour at 23.30hrs threatened to shut down the show. Indomitably, the show went on, and all the comedians got to finish their acts.
ENCOURAGING
Patrons were encouraged by the kind and heartfelt words of the show's organiser and night's chairman, Lyndon "Jumbie"Jones, who profusely thanked the crowd for their unshakable support, constantly apologising for the wet weather conditions.
Of course, those who went home with a few crisp $5000 bills, which "Jumbie" handsomely showered on a section of the crowd, probably didn't mind that much.
On stage, some of the comedians really had the crowd roaring. Others only got a few laughs, while in the final act of the night, openly gay comedian, "Sir Mars", usually a top-billed jokester, turned some people off in his stretch to fit, all-green female bathing suit and matching high heel platforms. Many were expecting more from the unruly comedian.
One of the better acts of the night was definitely Kirt "Chubby" Williams, and it was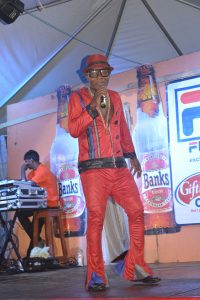 surprising that of the 12 performers that were in the competition, he did not get a top spot.
SHOW STEALER
But at the end of the day, it was Gopaul and his many jokes which parodied the recent sex scandal of Pope Philbert London, that the judges thought was the best act of the late-night-into-early-morning show.
Entering the stage on a Yamaha R6, a thick girl in tow, Gopaul set the stage for the next 10 minutes of nothing but laughs.
Despite encountering DJ problems and having to pause his acts a few times, Gopaul kept the jokes coming.
The audience laughed Chris to his winnings, which included $300,000 cash and a $10,000 gift voucher, all compliments of Game Express. He also won himself a $100,000 gold chain, compliments of Elegance Jewellery and Pawnshop, a silver ring from Sanjay's Jewellery, a $100,000 gift voucher from Giftland's, and a towering trophy.
Dressed in a costume inspired by a disco ball, last year's joint winner, Leza "Radika" Singh, took second place, to the surprise of some. For the position, she got a laptop worth $90,000, and a $50,000 gift voucher all from Giftland's, and a $10,000 gift voucher, courtesy of Game Express.
Mark Luke Edwards was third, also winning a $50,000 Giftland gift voucher, as well as a $90,000 LG flat-screen TV, compliments of  Payless.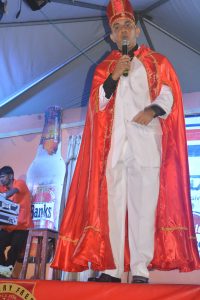 Mark Kazim, well known for his "Chineyman" impersonations, was fourth. His wins included a cell-phone from Gizmos & Gadgets, and a hamper from Banks DIH Limited.
Other acts who were part of the competition included Jermaine Grimmond and new comer, Randolph Critchlow.
Intertwined between the 12 competitors were several supporting acts who were not vying in the competition. These included Chow Pow, Maranda Austin, and even "Ghetto Scholar", Malcolm Ferreira, though his act was cut short after he frustratingly walked off the stage when the accompanying projector slide show was out of sync with his act and bust his jokes.
The crowd had mad love for the veteran, Chow Pow and his jokes that spoke of racial unity, and learning to love the cultural differences of Guyana's top two ethnic groups.