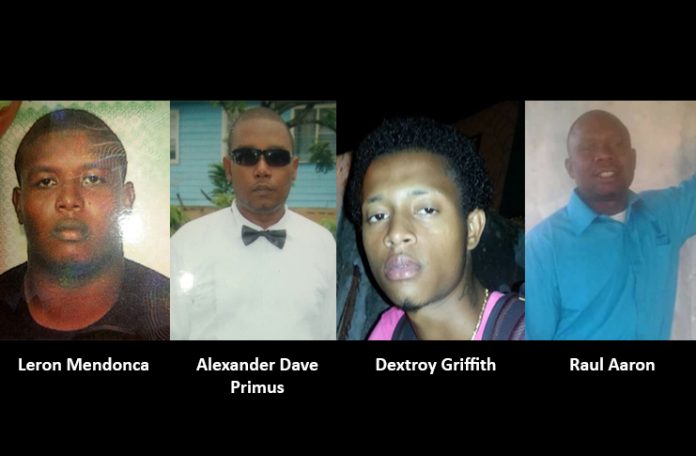 THE horrific accident on the Linden/Soesdyke Highway on Wednesday night has claimed its fourth victim, 22-year-old Leron Mendonca, who died while undergoing surgery at the Linden Hospital complex on Thursday morning.
The other victims include Dextroy Griffith, a 22-year-old mechanic; Alexander Dave Primus, a 52-year-old taxi driver and Raul Aaron, who all died on the spot.  Mendonca is a national of St Vincent and the Grenadines, who had returned to Guyana to renew his travelling documents; he was the nephew of Primus.
The bodies of Griffith, Primus and Aaron were transported to the Wismar Hospital Mortuary several hours after the accident occurred as policemen, fire fighters and other public spirited persons experienced great difficulty in extracting them from the mangled cars.
Griffith's wife, 24-year-old Whitney Ann Griffith, who is  four months pregnant and 42-year-old Aletha Kendell are  still patients at the Linden Hospital Complex and is said to be stable.
According to reports, Primus, who was at the time transporting passengers to Linden in his HC 5326 Toyota Spacio was proceeding South when he overtook a container truck in the vicinity of Loo Creek and collided with motor car PRR 7151 driven by Raul Aaron who was heading to Georgetown. Aaron was the lone occupant of the vehicle.
According to an eyewitness who was driving a short distance behind the taxi, Primus was speeding while he over took the truck and within seconds collided with the other vehicle.
"The road was a bit wet so I was taking me time but this man pick up a speed cause the truck was driving slow and like he ain't see the light of the vehicle coming but I see the light from way back but I thought the man had good average, but them man end up crashing," the eyewitness said.
Meanwhile, Griffith leaves to mourn his newly wed wife, Whitney and his two young children. They would have celebrated their first wedding anniversary next week Sunday. According to relatives, Whitney is unaware that her husband is dead, while Primus leaves to mourn his wife Rachel Primus and his children along with other relatives.
Linden has been sent into a state of shock as news spread of the fatality. Residents are concerned over the 35 mile thoroughfare that continues to be free of street lights despite several calls for the highway to be equipped with these.
Calls are also being made for officials to look into the many young and inexperienced drivers now plying the Linden to Georgetown route in private cars.