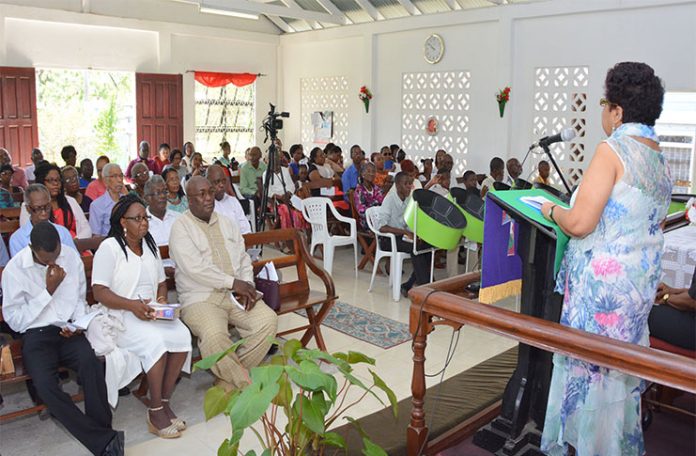 Minister of Social Cohesion, Amna Ally is of the view that religious organisations can play an integral role in fostering social cohesion in their communities and committed to providing technical and other support through her Ministry for such initiatives.
"You have a role to play in helping to build a unified Guyana… Social cohesion is the willingness of members of a society to cooperate with each other in order to survive and prosper," the Minister said at the joint service celebration of Guyana's Golden Jubilee hosted at the Mocha/Arcadia Methodist Church on Sunday.
According to a release from the Ministry of the Presidency, she noted that there are many ways in which the church could contribute to social cohesion in their communities by working together and championing initiatives that bring people together.
The Minister used the opportunity to recommend inter-cultural understanding programme development, community festivals and projects.
"We have to proclaim the right to differ, and eliminate discrimination…little acts in the community can make a difference," she said.
According to the release, the Minister said that she is willing to make available technical and other support to the Ministry to help to organise these initiatives.
"Sometimes the church has to be sensitive to the needs of the community; look around the community and identify ways in which cohesion can be fostered," she said.
The Minister also used the opportunity to pledge grass cutters for all the churches and some schools in the community, in addition to the donation of 10 bicycles for the young members of the Trinity Steel Waves Steelpan band. This pledge was made in recognition of the churches' role in the community and aims at ensuring that the churches are taken care of, the Minister said.
The Minister stated that she admired the congregation as they take their civic and national responsibilities very seriously. She noted that while most of the country's Jubilee celebrations ended in May, it is commendable that the church chose to continue their observation later into the year, adding that such an important milestone should be celebrated for as long as one chooses.