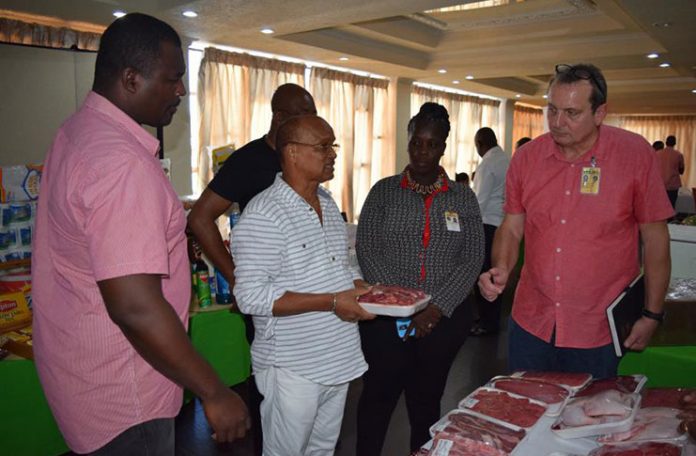 AURORA Gold Mine (AGM Inc.) has held a three-day exposition geared at affording local businesses the opportunity to become its suppliers of competitive and high-quality goods and services.Called the 'INWARD Expo', the event, held from October 22 to 24 at the Tower Suites on downtown Main Street in Georgetown, was reportedly a new concept introduced here, and attracted close to 100 vendors of goods and services who were seeking to supply AGM Inc. with such provisions as mine services; industrial supplies and engineering; food products; cleaning and janitorial services and supplies; equipment and spares; and health safety and medical supplies.
According to AGM Inc., the three-day caucus was a huge success. "Many new partnerships were forged, and networking opportunities abounded over the course of the event," AGM said, adding: "Well known businesses, such as Sol Guyana Inc. and MACORP, displayed their products and services before making private presentations."
AGM Inc's Supply Chain Manager Kirk McLellan, who had initiated this type of activity in other countries, said the forum catered to facilitating one-on-one interaction between vendors and end-users within the company, and the needs and constraints on both sides were laid on the table, clarified, and mutually understood.
AGM Inc. said in a subsequent press release that the foregoing was especially true, not only for companies with which it had never previously done business, but also for current suppliers as well.
"It is great that AGM Inc. used this initiative to show international companies operating here in Guyana that local content could be used," declared CEO of Global Seafoods Distributors, Allison Butters-Grant, as she commended AGM Inc. for conceiving of such a novel idea, and successfully bringing local businesses together to share it with them.
Gafsons representative Mr. Narine (only name given) said the initiative was indeed a welcome opportunity for him to share what Gafsons was doing to improve on the services available to all customers, including AGM Inc.
"At least at this Expo we were able to explain on a broader scale what we have in store: what our plans are, and how we can facilitate AGM Inc. in their quest to expand their mine (company)," he declared.
Guyana Goldfields/AGM Inc. has committed to continue extending its reach into the Guyanese business sector as it looks to satisfy its needs for operating supplies and equipment locally as much as is possible, in keeping with its CSR mandate of being a 'partner for sustainable development' with Guyanese businesses.
The INWARD Expo is a new concept being introduced in Guyana to ensure that Guyanese businesses are afforded the opportunity to supply competitive and high-quality goods and services to the company