 Truck driver, Roopnarine Hardiwar, who was charged with killing a 60-year-old pedal cyclist along the Pearl Public Road, East Bank Demerara in 2014, was sentenced to three years imprisonment by Chief Magistrate Ann McLennan Monday at the Georgetown Magistrate's Court.
Hardiwar was charged with driving motor lorry GPP 9557 on November 15, 2014 in a manner dangerous to the public, causing the death of Ramdoolar Dhanraj, called 'Eddie.' In addition to the sentencing, he also had his driver's license suspended for three years.
The Magistrate stated that based on the evidence presented by the Police Prosecutor, Inspector Neville Jeffers, she considered mainly the measurements of the crime scene and the evidence of the witness.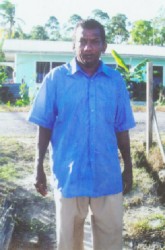 She further stated that the court was led to believe that the defendant was speeding on the day in question. In mitigation, Hardiwar begged the court for leniency, stating that he is the sole breadwinner for his small family and regrets the incident.
Hardiwar had given an unsworn testimony to the court, where he revealed that on the day of the accident, he was journeying along the Pearl Public Road, where he was about to drive around a bend. He said he saw a pedal cyclist coming from the western direction.
According to Hardiwar, he applied the brakes and blew his horn but the pedal cyclist kept going east, resulting in a collision. He stated that the cyclist collided with his side of the vehicle, causing him to lose control and ending up in a nearby trench.
Hardiwar stated that he came out of the vehicle and rendered assistance to the cyclist but added that he received a beating from persons who had gathered at the scene. Reports are that the man was heading home, when the truck which was heading to the city struck him down.
It was reported that Dhanraj's mangled bicycle was left lying in the grass while his badly crushed body was close by.
Deep tyre tracks on the eastern parapet indicated that the driver lost control about 100 meters from where Dhanraj was riding before ramming into him. The vehicle ended up in a ditch after running over the father of three.