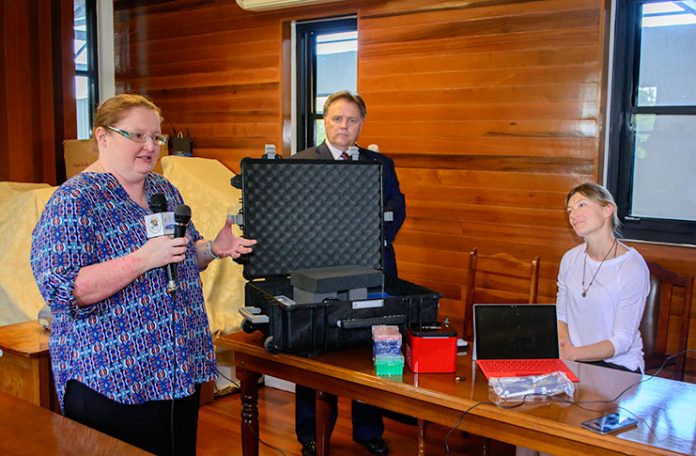 THE Woodlands Hospital has collaborated with US company Co-Diagnostics to revolutionise testing for zika and other diseases with the establishment of a Molecular Diagnostics Laboratory at its Carmichael Street, Georgetown facility.At a press briefing on Monday, officials of Co-Diagnostics presented to the Laboratory of the Woodlands Hospital several kits that would facilitate testing for thousands of persons, with results being delivered within 45 minutes. The small but sophisticated and mathematically constructed equipment, which can be used to test for zika and its related diseases –- dengue, yellow fever and chikungunya –- can also be used to test individuals for HIV, Hepatitis B and C, and other sexually transmitted diseases (STDs).
A team of inventors, doctors and scientists travelled to Guyana to deliver the equipment to the Woodlands Hospital and to train technicians at its laboratory to use them, Chief Executive Officer of Co-Diagnostics Dwight Egan said.
Co-Diagnostics, a company at the forefront of polymerase chain reaction (PCR) technology, created this new class of molecular diagnostics which provides fast, reliable, accurate and affordable testing and saves clients thousands of dollars.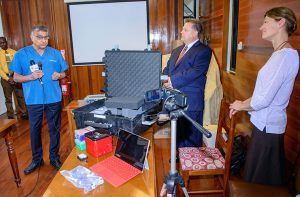 "Our goal was to combine very low-cost tests with very low-cost equipment so that it could actually be used and be put to use in a developing world," Egan said.
On its website at http:// codiagnostics.com, Co-Diagnostics said "Co-Diagnostics' CoDx portfolio of molecular diagnostics development products and tests represent a radical new advancement in the understanding of molecular interactions of DNA."
The product was constructed through mathematical innovations which would enable testing at a more affordable cost, and serves a wider population with a capacity to offer 48 tests at one time.
"People can be tested more often. They can be tested in batches of 48 at a time. It connects with a small computer, and these two pieces combined comprise of a diagnostic laboratory. In about 45 minutes…it demonstrates to them whether or not they have any particular disease," Egan explained.
He described it as a neat technology, with one lab containing thousands of tests which can be offered at a cost of aproximately US$10 (Gy$2,000) for a single test. It is available in the finest hospitals and laboratories across the world.
Co-Diagnostics has chosen Woodlands Hospital Laboratory because the hospital is a "premier hospital in Guyana" and has "a good laboratory".
Woodlands Hospital's Chief Executive Officer (CEO) Dr. Neville Gobin has said he is thrilled that Woodlands has been selected for the new laboratory upgrade and the launching of the Molecular Diagnostics Laboratory here.
As an obstetrician, Zika testing is of particular interest to him, he said; and many women who become pregnant are very afraid (since) zika has a negative effect on the foetus.
"It's a low-cost equipment… it's a low-cost test…the results are available in 45 minutes," he said.
The test will be a good replacement for the rapid testing which Woodlands used previously, but which had been criticised as being inaccurate and inconsistent.
"This really would sort of change many things for the benefit of our country and our patients. Not only Woodlands, but the entire country will benefit. I am glad that Woodlands Hospital has been chosen, because little did I know that the fame of our lab has gone as far as Canada," Dr. Gobin said.
Dr. Gobin received a call from the office two Fridays ago, when the contact was established.
Developer of the test, Dr. Rebecca Garcia, said it took her only two and a half days to develop the testing equipment. She said the new Co-Diagnosis technology is focused on a worldwide application, and the company is working on having it released on emergency in the USA.
She said the test is based on a rapid-pro technology created originally by Dr. Brent Satterfield, who has engineered new diagnostics for various laboratories and public health institutions. It was originally implemented in Guatemala.
The team, which arrived in Guyana just before the Monday press briefing, is also scheduled to meet with Public Health Minister Dr. George Norton to discuss the technology and zika detection.