…says "I'm a voice for the voiceless"
She's a poet, an aspiring lawyer, and almost two months ago she took social media by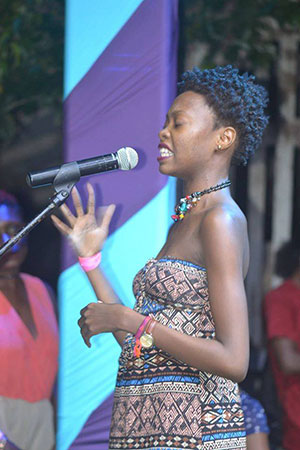 storm, at least on the Guyanese end of things, she is 19-year-old University of Guyana student Renata Burnett, who rose to fame, on the local circuit, with her spoken word piece "Dear Mr. President".
Many sat up and took notice when this lanky aspiring lawyer spoke out and addressed "Mr. President" about the struggles she was facing in attending University and trying to find a job. A very relatable case for many young people in the economy. Renata opened by saying that she was hoping that the video would go viral, and it so did.
Describing her poetry Renata says: "I'm a the-truth-hurts" type of poet, an informative kind of poet, but most importantly I'm a voice for the voiceless."
Renata takes inspirations from the likes of Maya Angelou and Guyanese poet Martin Carter. The Pepperpot recently caught up with young Ms. Burnette to see how her new found fame has been shaping her life and just how it all got started. Renata says she never found out if "Mr. President" ever got her message as she never really got any response. However she was eventually offered a job as a result of her outpouring. She's still in the processing of tying up a few a things before she can begin the job and admits that it will be a bit of a challenge, as she will have to reshuffle her schedule a bit to accommodate working and studying, but she's sure she can make it work.
Renata writes with young people in mind, describing herself a relatable person.
"Having a target audience is very important. What I've discovered is that I'm a very relatable individual, and my writing doesn't have age or gender or religious affiliation, but my audience in a nutshell would be individuals in their late teens/twenties," Renata said.
A bad breakup
As it relates to where it all started for her in poetry, Renata recalled how she first started writing poetry just over a year now, after it all began with bad break up. But since then her poetry has evolved into so much more, an arena of limitless possibilities. "Someone broke my heart, so I decided to put all my emotions on a piece of paper," Burnette recollected, adding that: "The ultimate goal for my poetry, at this point there's no limit. Poetry is so very versatile, it can fit into any art form and that's what makes it so interesting."
At first she wrote her poem just for herself, but then she started performing publicly at varying poetry nights, and then in July of this year she started posting her videos on Facebook. She says the change from writing to herself to writing for an audience was a little unsettling, and she struggled with consistency. She also worried about staying true to herself while appealing to her audience.
"Like everything in life one must face challenges and poetry isn't any different. Being consistent is a huge challenge for me, because I am used to writing for myself, at my time, whenever I feel like. But now it's expected of me to be more consistent. Staying true to me, to my writing, to my style, that's another challenge in itself, reason being people have their opinions and suggestions that they try to force on you in the name of wanting you to be better." Renata said.
Nonetheless she has been taking it all in stride and now she writes about it all: Music, life, struggles, achievements, pain, happiness, you name it, and Renata will find an eloquent and dramatic way to articulate it. And it was a particular struggle that saw Renata penning her piece "Dear Mr. President", and posting in on Facebook.
Challenge to find a job
Talking to "Mr. President", Renata speaks about her challenge to find a job, and all of the companies that said they just don't have vacancies for Renata's qualifications which puzzles the former Brickdam Secondary student because she doesn't even have a PhD as yet.
Matter of fact she's still in the process of pursuing her first undergraduate degree in Communications at UG. Renata is a first year student. She has only thus far completed her secondary school studies, with a CSEC and CAPE certificates. Other companies told Renata that she couldn't be hired because she's a current student of the University. So what she said was very relatable, and how she said it was flawlessly executed, so much so that it resonated with quite a lot of persons.
Many UG students, and even persons not attending University can attest to issues chronicled by Renata. Her piece was noted in a few opinionated pieces in the media. Posted on September 9, 2016, her video has already been viewed over 78,000 times up to last Friday, October 21, which may not look like much in a world where viral videos hit as much as 12 million views, but as Guyanese videos go, that's a pretty good number.
Renata was bowled over by the response she got, saying it's the impact that her poetry has on people that really puts a smile to her face. ""The support has been amazing. From my friends and my family, just amazing. I'm grateful as always. Very appreciative of it. The impact that my poetry has on people, writing something from your personal experience, and having a thousand plus people being able to relate to that, it's crazy. That's my favorite part about being a poet."