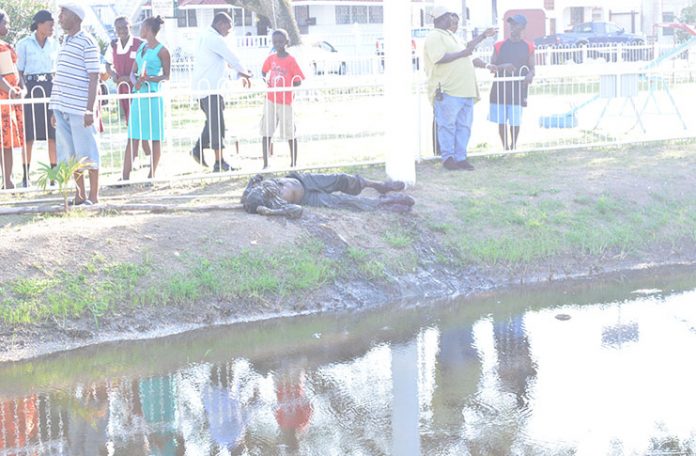 THE body of an unidentified man was fished out of a trench on Church Street, Georgetown, in the vicinity of the Merriman Play Park by the police on Thursday afternoon.The body was discovered around 16:00hrs by children who were playing in the area at the time; they alerted passersby, who then summoned the police. Persons in the area told the Guyana Chronicle that they saw what appeared to be a piece of cardboard protruding from the trench on Wednesday but did not take it seriously.
The body was fully clothed in a grey and brown trousers, a gold-coloured shirt, footwear and gold-plated wrist watch. The body did not have any visible marks of violence and was lying face-down when found. Investigators reported that nothing was found on the body to reveal the identity of the man, but noted that the body was seemingly 'fresh,' because it was not decomposed. The police are also checking missing persons' reports in an effort to identify the victim, who appears to be of mixed race in his late 30s.
How the corpse ended up at that location is unknown, but investigators have access to a surveillance video captured from a nearby residence. They hope to enhance the view to ascertain what exactly transpired at the scene.
People in the area said that a drug addict would normally loiter around the park to pick tamarinds, but they are certain the body found is not him.