By Jasmaine Payne
IT didn't take long for Ruqayyah Boyer's new found singing career to pick up and the songstress has wasted no time in touching on the heavy topics. Her second single 'You don't own me', which was launched on October 1, 2016, coincided with International Day of Nonviolence and tackles the ever present social ills of domestic violence.The song shares the same name and directly samples from the 1963 song 'You don't own me' by Lesley Gore. Much like the original, Ruqayyah's version, also has a spirited message for women who may be trapped in abusive relationships, but who have mustered the courage to finally get out. Ruqayyah uses the hip-hop beat to frame the song as a type of musical monologue, detailing one young woman's struggle to stand up to her partner.
But the idea for the song was birthed since 2011, long before Ruqayyah decided to start recording.
"I was first given the soundtrack to play around with by Kendabeatmaker of Brutal Recording studios…" Ruqayyah told The Buzz.
"I had the track for about three months before waking up suddenly one morning knowing exactly what I wanted to say in the song. I wrote the entire song under 1 hour."
And having been part of her focus during her stint in pageantry at the time, the subject of domestic violence seemed more than a fitting topic for the beat.
"[Lesley Gore's] version was created as a feminist anthem, while my remake of the classic is focused more on the issue of gender based violence plaguing our country. It speaks about a young woman who underwent the abuse so many of our women face, but she survived and escaped. In some ways it is also my tribute to the legend of what Gore is and was. She stood for something more than herself and that's inspiring," Ruqayyah said.
Some aspects of the song were inspired by women whom she interacted with on social media about their personal struggles. "I did what I could to help and other times I felt so helpless to the core… I ultimately decided that the best way I could truly help was through my craft and talents," she said.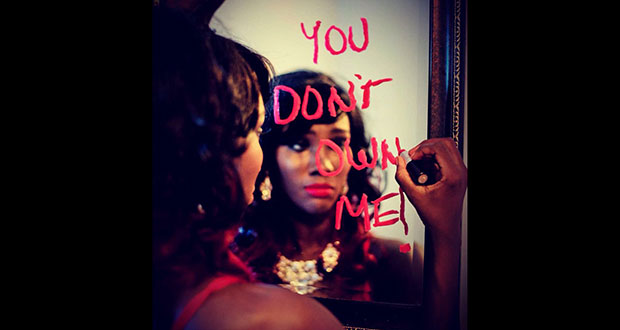 Even though the song was launched only a few days ago, 'You don't own me' has already been able to garner support from local Non-Governmental Organisations (NGOs) and the diaspora, which advocate against domestic violence in Guyana.
"I have also been in talks recently with the Ministry of Social Protection about having the song as an awareness magnifier during the months of November and December when a lot of activities will be ongoing surrounding the issues highlighted in the song," she said.
Ruqayyah continues to work with stakeholders to help promote the song throughout Guyana with the hope that her words are heard and can inspire women who are in a similar situation.
As she continues to grow in her new singing career, Ruqayyah says that she is now discovering herself as a musical artist and is therefore exploring the types of songs she will put out from hereon. Nevertheless, she believes that songs which focus on topics like these are important.
"At some point, (as) human beings (we) will want messages that feed our souls because music is supposed to heal and inspire, as much as it entertains… Overall I'll be aiming to have as much fun with the stories I decide to share, while consciously striking a healthy balance with its portrayed content both lyrically and visually," Ruqayyah explained.
Meanwhile, even as she continues to work on several other upcoming singles, she is still in negotiation as it relates to other aspects of her new career, such as management and the composition of an album.
Ruqayyah said that plans for the music video to her first single 'Sunshine' have begun and production will begin next year. Meanwhile her song 'You don't own me' continues to enjoy significant airplay around Guyana, as well as in other countries such as Trinidad, Barbados, England, New Zealand and the United States.