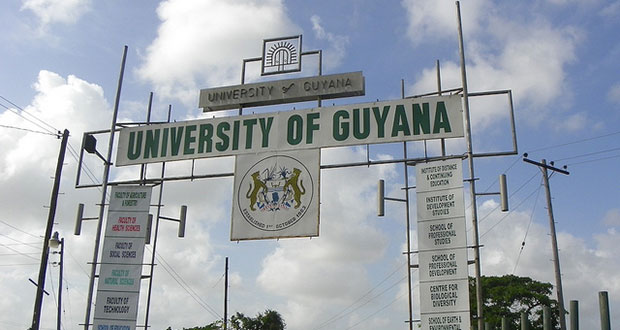 -sparks public outcry
By Ravin Singh
LESS than two years after imposing a tuition increase on students attending the University of Guyana (UG), together with an increase of $40,000 in facility fees, the administration of the country's premier educational institution has again increased the fees by five per cent, and this is payable from next month.On Friday afternoon, Students Records Management System (SRMS) issued emails to all students informing them of the increase. The email read: "The University administration informs the University Community that the Finance and General Purposes Committee of the University had approved an annual 5% increase in the tuition fees effective for 2016/2017 and 2017/2018 Academic Years."
As such, the annual tuition fee for the 2016/2017 Academic Year is therefore $168,000 instead of $160,000; and with an annual facility fee of $50,000, this now takes the total to $218,000.
It is understood that the increase was introduced without consultation with the University of Guyana Students' Society (UGSS), the representative body for the student population, which currently stands at more than 6000.
"The University regrets any inconvenience caused, and wishes to advise that all invoices will be amended accordingly. The difference, without penalty, becomes due and payable on or before November 15, 2016," the statement added.
With this increase, students who would have already paid cash for the academic year 2016/2017 will now be required to pay the difference before November 15.
And this move, which according to students was "imposed" on them, sparked public outcry on social media on Friday, particularly on the University's Facebook page.
Students have threatened to assemble on Monday morning and protest the heavy-handed approach by the administration. One student posted in the group: "Those who increase tuition fees once enjoyed free education at UG. Enough is enough let's assemble Monday morning objective the university administration needs to respect students and provide proper and better facilities. So far UG would have received over $500 million in facilities fees what improvements have we seen in the last two years? #enough #Revolution"
But this is not unique to the institution. In 2014, the institution's council approved increased fees unknowing to students, while the facilities fees jumped from $10,000 annually to $50,000.
Students have since decried conditions at the institution, which have not improved despite their having to pay this increase.
The Public Announcement (PA) system has since last week been inoperable in the George Walcott Lecture Theatre, and this has forced the cancellation of classes due to the size of the lecture room.
Additionally, students continue to complain about the deplorable state of washrooms, which the administration had promised the upgrade since the introduction of the new facility fees.
Moreover, this new increase comes at a time when the administration and the students' welfare department are facing criticisms for the student body's elections, wherein less than 10 per cent of the student population voted. This, according to one of the running Presidential candidates, was largely due to the students' welfare department's inability to push voters' education, which resulted in students being disenfranchised. One set that was disenfranchised were first year students who were still awaiting approval for their application.
Current students who switch programmes this year were also barred from voting at this year's elections.