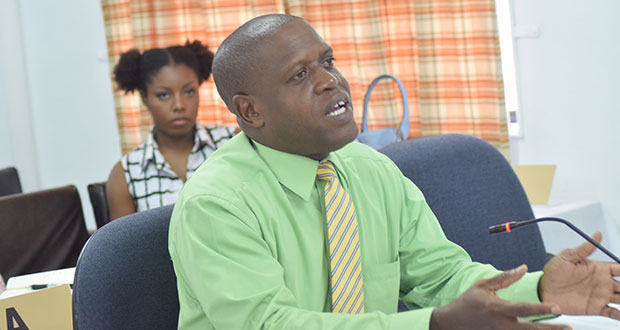 – solid recommendations made at start of Commission of Inquiry
By Shirley Thomas
A PUBLIC Inquiry designed to look into conditions and circumstances facing veterans of the Guyana Defence Force (GDF), the Guyana People's Militia and the Guyana National Service and to make recommendations to ensure their health and welfare commenced Wednesday.The inquiry is being led by Colonel (Ret'd) Desmond Roberts, with Colonel Denzil Carmichael as Secretary.
The first witness was Retired Lt Colonel Lelon Saul. He presented a report containing findings and recommendations based on the complaints of veterans with a firm resolve to chart a positive way forward. The report looked at what action could be taken to make for a smooth and less painful transition from a life of active service to civilian life.
The report reflected, not only the individual views of the testifier, but the Veterans' Legion of Guyana of which he is vice-president
Some of the areas resolutely and critically perused were:
• The quality of welfare service that promotes dignity and independence while generating adequate incomes to see the veterans and their families through
• The inadequacy of benefits for veterans
• Veterans' pensions
• Compensation and appropriate medical care for veterans injured on the job
• Management and conditions at the veterans' home in Lamaha Springs
• The importance of acknowledging and rewarding dedicated service on the job
• Housing for veterans
• A scheme to be devised for making available, lands to veterans to pursue agriculture and form co-operatives
Saul said he was very concerned about the state of veterans in Guyana and strongly believes that there are several factors contributing to the state of veterans. He observed that many of the skills gained while in service are not really transferable to the civilian world. Hence, it becomes difficult for the veterans (as young as 40+) to become employed after retirement.
It is in this regard that he alluded to the crisis faced by veterans, to the extent that the majority are absorbed into security service, which does not augur well for their dignity. He was critical of the compensation packages for persons working with security companies. He said pensions and other monetary incentives are "woefully inadequate." Hence, veterans are hard put to maintain themselves.
In this regard, Saul recommended that particular attention be paid to the human resource considerations: Remuneration and Emolument; Training and Development and also Recognition and Rewards.
"I believe these areas, if adequately addressed, will certainly go a long way in addressing the deficiencies, especially since the salaries they receive while in service would influence their superannuation benefits."
He recommended that attention be paid to training and development in the named disciplined services, adding, "In so doing, they would be in a better position to prepare the ranks to go into retirement, because at some point in time while in service, you will need to address the whole issue of resettlement."
It was Saul's opinion that the Guyana Defence Force no longer places a high premium on reward and recognition for long and dedicated service.
"I believe that organizations should recognize and reward people for their services, and the reward may be a medal or something," he stated.
He claimed that even officers and warrant officers who had given distinguished service are not awarded medals such as the Military Service Medal.
Saul reasoned that any veteran would like to know that they can be recognized for serving the army.
"We need to correct that," he stressed.
Welfare service extended to veterans
Saul spoke of the many soldiers who were injured in the line of duty, but were left to "foot it" on their own. He alluded to the soldiers who were injured in the Camp Groomes explosion and another who was injured in a standoff with Lindon "Blackie" Lewis and others. One of the soldiers, he said, was shot in the face and is now mentally unstable. .
Asked by Col Roberts what recommendations he had to change the system, Saul said some entity should be identified to manage those soldiers or perhaps the GDF can do it in the short term. The soldiers should be called in, properly assessed and continuous medical care provided for them. He also recommended that the army medical corps be made to offer medical care to veterans who would otherwise have to access the services of the Georgetown Hospital.
Veterans' Home
He noted that there seem to be no guidelines that regulate the functioning of the Veterans' Home, the appointment of staff and how they should go about managing that facility.
As such, he recommended that the Veterans' Home and the GDF and government have a mechanism in place to appoint a board to manage the Home.
Professional staff must be placed there, and there must be guidelines to manage the facility, he said.
Col Roberts rated the report presented by Saul as an excellent one and said that he was satisfied with the observations and proposals submitted.