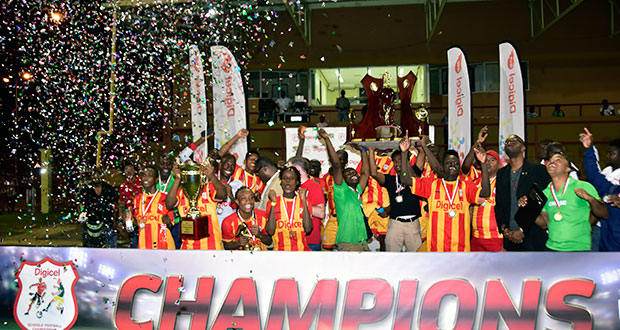 -Sir Leon Lesson brush aside Bush Lot for third
Christianburg/Wismar Secondary have been dethroned.It took Chase Academic Foundation a Job Ceaser free kick in the 24th minute to do it; but they have successfully ended Linden's four- year stranglehold on the Digicel Schools Football tournament, at the Providence Stadium last night .It was an emotional night for both teams with Christianburg's dynasty being cut short and Chase Academic foundation finally clinching that elusive title.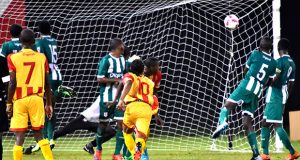 From the onset, Chase utilised the skill of their wings and their midfield to try and get inside the Christianburg defence but the defending champions were prepared on most occasions, holding a high line and often times catching their opposition offside.
However, no one was prepared for Ceaser's penalty from the top of the box, which cannoned into the top left hand corner and sent the Chase squad into jubilation.
Though the Linden based side have been known to play better from behind, that wasn't the case at the Providence Stadium, as the Georgetown unit continued in the face of their opposition.
Several more chances would come the way of the Chase side to extend their lead, including one shot which just shaved the crossbar and another which hugged the outside of the post, but the game remained 1-0.
Ceaser ended as the tournament's Most Valuable Player, and Chase now have one million reasons to celebrate, with Christianburg/ Wismar now attending six finals with four wins.
Earlier, in the third place play off, Georgetown South Zone winners Sir Leon Lessons pushed aside Bush Lot 4-2 with goals from Adrian Aaron (30th and 45+1) while Omari James and Keifer Brandt each registered goals, in the 55th and 69th respectively. Tyrone Miller (7th) and Shaquille DeHarte (71st), were on target for the four- time Region 5 winners.
Sir Leon now has $400,000 for their win while Bush Lot collected $350,000.