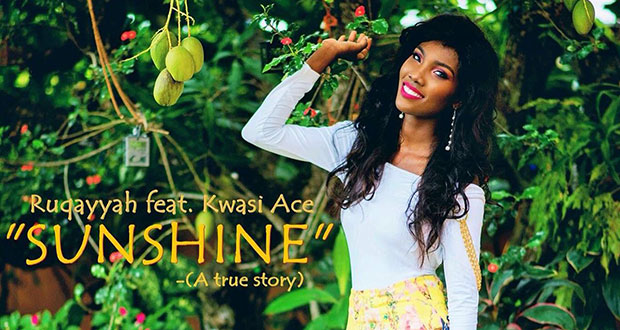 –Ruqayyah Boyer's got it goin' on
HER name is oftentimes affiliated with pageantry, having most notably borne the titles of Miss Guyana Universe 2012 and Miss World Guyana 2013. But now, former pageant queen and business owner Ruqayyah Boyer is adding music to her official list of career endeavours, with the recent launch of her debut single, "Sunshine".
The upbeat, happy-go-lucky tune is the first track to be released off of her upcoming Extended Play (EP), foreshadowing a promising music career for this talented young woman.
In an interview with The Buzz, Ruqayyah revealed that the song was inspired by a burning desire to come up with the perfect birthday present for her boyfriend.
Though at first, being an extremely private person on all matters relating to the heart, she was skeptical about being so public about her love life, she agreed to release it after her boyfriend seemed to be okay with her public display of affection. "Originally, this number was supposed to just be recorded and given to my boyfriend privately, but then I decided that, 'You know what, this is about my version of a love story, and the world could use some more love,'" she said.
With a free studio session presented to her as her own birthday present from Kross Kolors' Melissa Roberts, Ruqayyah went to work with Simeon Browne of Wondamang Productions on producing the song.
The song also features the lyrical talent of Kwasi "Ace" Edmondson, which brings a welcomed balance to the otherwise pop/jazz compilation.
Having worked with Kwasi Ace on the Unity Embassadors' track, 'Together we can have it all', Ruqayyah said she had always been a fan of his, and thought that he would be a fitting addition to the song.
"I wasn't sure how Guyanese would respond to my not singing what they were accustomed to, so, as part strategy to introduce this new sound, I figured why not give them my love with a little bit of what they know and enjoy already. Which is where Ace came in," Ruqayyah said, adding:
"It was just my luck that Kwasi and I were already friends long before any of these ideas started morphing, and I'm very grateful to him for his reception to being on board with a song that meant a lot to me."
OVERWHELMINGLY POSITIVE
The song also features an extended version, where Ruqayyah enlisted some collaboration from former Miss United Kingdom and close friend, Kirsty Heslewood. "The idea was to go a bit further, and fuse my sound with her English/British influence, and to use Ace's style to create a unique product.
"And it seemed to work out well, because, thus far, the response has been overwhelmingly positive, and I'm just looking forward to what new adventures this step brings," she said.
And while it may come as a surprise to some that this beauty is a singer as well, Ruqayyah admits that singing has been part of her life for quite some time, having been actively involved in the performing arts since the age of seven. "In my hometown, Linden, I was a part of choirs and acting groups in and out of school. However, in my family, it was sort of forbidden to be engaged in the arts, and rather focus on academics.
"So, I had stifled those passions once under parental care," Ruqayyah said. "However, by the time I turned 19, I couldn't stay away, and decided that before I jumped straight into music or acting, which are my first loves, I'd first try pageants, which seemed to be a good jumpstart platform. "And I needed to build my stage experience… So, I guess you can say I've just been waiting for the right moment, too, because, as much as I know I love music, I have a deep-rooted apprehension of getting into a recording studio, and just laying it all out.
"I'm gradually overcoming those challenges, and am encouraged by my peers to push forward. I still have so much to learn, and much training to do to improve upon my vocal delivery and transfer of emotions.
"I am sort of a perfectionist when it comes to anything artistic, so it's all still a work in progress," she said.
WHAT'S NEXT
With her EP close on the horizon, and music now officially under her belt, the question now is: How much more music we can expect from Ruqayyah?
She admits that her myriad life's goals demand much focus, and that her love for both business and entertainment can be very demanding.
"Music does fall under the natural scheme of things, however, I'm still working out the balance of it all, because I don't want to limit myself, and make not having the time an excuse. After all, we only get one life and one shot to serve our purpose. I've every intention to serve mine, positively so," Ruqayyah said.
She revealed that she is also working on a music video for the song, which is scheduled to be released later in August, and is also continuing to work on other tracks for her EP. "Those will be released over a period, which should give me ample time to develop and grow both businesses under the PROVOTIQUE umbrella," she said.