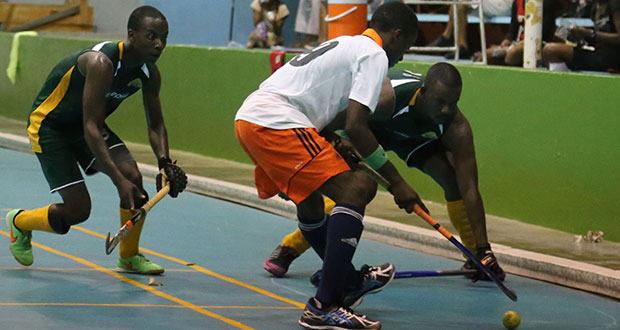 LUCOZADE'S Hockey Tournament continued on Tuesday with a pair of thrilling inter-club bouts at the National Gymnasium on Mandela Avenue. In the first game, Old Fort 'A' versus Old Fort 'B', some spectators called it a clash of sheer skills.

Two minutes into play Jael Gaskin of the B team scored a stunning field goal (FG), but that just seemed to rile up the A team, as Jason De Santos scored the equalising penalty corner (PC) just five minutes later, before Dwight Sullivan gave the 'A' team a 3-1 lead with two FGs in the 18th and 20th minutes respectively.
However, the second half proved to be more exciting as both teams made many attempts to add to their final tally. Old Fort 'B' team's Dehron Wilkinson scored a FG in the 22nd minute, but that was quickly answered by Askofu Simon (Old Fort 'A') with one of his own one minute later.
Three minutes after, John Abrams of the 'B' team made a successful PC but it was then that Old Fort 'A' unleashed their relentless skills. Dwight Sullivan (2 FGs), Aderemi Simon (1 FG) and Jason Clarke (1 FG) all sealed their team's victory bringing the ultimate score to 8-3.
The second inter-club match happened between Bounty's GCC and the GCC Pitbulls with the later winning 6-4.
The first half featured a goal each for both sides as Bounty GCC's Kevin Spencer scored a 14th minute PC and Mark Sergeant of the Pitbulls scored a 16th minute FG as both teams looked to break the deadlock but failed.
The last half was much more productive though, as Spencer started the scoring again for the Bounty side with a 26th minute PC, but this time Mark's brother Meshach Sargeant again levelled it with a FG of his own.
Kareem McKenzie and Michael Craig of the Bounty squad added two more FGs before Keon McKenzie of the Pitbulls edged in a FG for his team. At this point a win seemed likely for either side but Steven Xavier of Bounty's GCC stole that hope for the Pitbulls with a FG and a PC just three minutes before the buzzer sounded.
Meshach Sargeant tried valiantly to even the odds but managed only to squeeze in one FG in the 39th minute.
The action continues this Friday at the National Gymnasium at 17:00hrs.