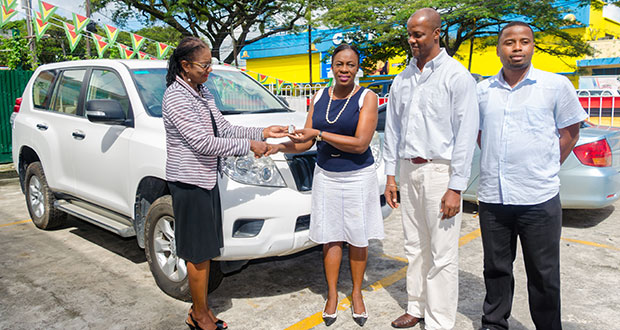 By Vishani Ragobeer
THE Ministry of Education (MoE) has received a spanking new Toyota Land Cruiser (Prado) as a gift from the United Nations Population Fund (UNFPA).Minister within the Ministry of Education, Nicolette Henry, on Friday received the keys to the vehicle from UNFPA Resident Representative Patrice La Fleur at a handing-over ceremony witnessed by Alfred King, Permanent Secretary in the Department of Culture, Youth and Sport of the Ministry of Education.
The UNFPA and the MoE have, for more than a decade, been collaborating on various projects; and King said both agencies endeavour to see greater strides in youth development, especially in the areas of family life and sexual education.
La Fleur echoed similar sentiments, and noted that "Youth Friendly Spaces" which allow youths to learn about themselves, including their sexuality and responsibilities in society, have been established in Guyana since in 2007, and have been having an impact.
These spaces, established to aid in the reduction of teenage pregnancy and other youth challenges, are endorsed by the Caricom Secretariat and the United Nations.
The donated vehicle will aid the MoE in its outreach programmes geared at promoting access to the youth-friendly spaces, where adolescents have the opportunity to discover themselves and be educated.
Deeming the donation timely, Minister Henry said the Department of Youth is focused on ensuring young people have a safe space where they can meet and exchange views.
The UNFPA tackles sexual and reproductive health, population and development, and gender issues in Guyana. It also works with a number of governmental agencies and non-governmental organisations, such as the Guyana Responsible Parenthood Association (GRPA), in executing its programmes.