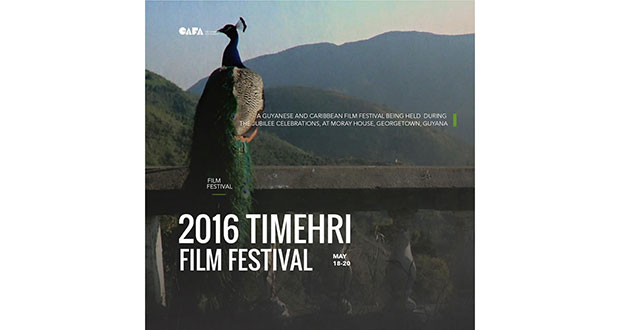 GUYANESE are in for a rare film-based treat, with the inaugural launch of the Timehri Film Festival (TFF), scheduled for May 18 -20 at Moray House. The event is a collaborative effort between the New York-based Caribbean Film Academy and the Caribbean-American culture blog, Rewind & Come Again.
The event is being hosted in honour of Guyana's Golden Jubilee. Attendance to the three-day event will be free for film lovers, and will celebrate Guyanese and Caribbean film, with a full slate of short and feature-length films. It will also offer a roster of film production workshops to up-and-coming filmmakers.
"After programming Caribbean films in New York for the past few years, it became evident that filmmaking in Guyana is not progressing at the rate it should be, in comparison to other Caribbean countries," said TFF Director, Romoloa Lucas.
"In addition," Lucas said, "many of the great films being made in the Caribbean aren't being seen by Guyanese audiences. Being Guyanese myself, knowing we have many talented storytellers, and wanting film to grow and thrive as an art in Guyana, we thought of starting a film festival there, as a way to fill both voids."
FINANCING A CHALLENGE
As with many arts-related ventures, financing a film festival is a challenge. "We have been able to organise the Festival to this point with the help and support of our partner in Guyana, the Society Against Sexual Orientation Discrimination (SASOD), and a US-based sponsor, Blossoms of Guyana, both non-profit organisations working in the Guyanese community," Romola said.
To help defray the remaining costs, the Festival is also launching a crowd-funding campaign on Indiegogo. All funds raised will be put toward Festival expenses: Venue and marketing costs. Visit https://igg.me/at/timehriff2016 to view and contribute to the campaign.
To stay up-to-date with the Timehri Film Festival, visit TimehriFilmFestival.com, like TFF on Facebook (Facebook.com/TimehriFilmFestival), or follow us on Instagram @TimehriFF and the hashtag #TimehriFF16.
In addition to screening films from established directors and producers, TFF is also opening up a call for submissions. Filmmakers from Guyana, whether at home or abroad, are being encouraged to submit their short films for consideration.
Interested filmmakers should visit https://filmfreeway.com/festival/TimehriFilmFestival for more details, and to submit their film. They have until Sunday to make their submissions.