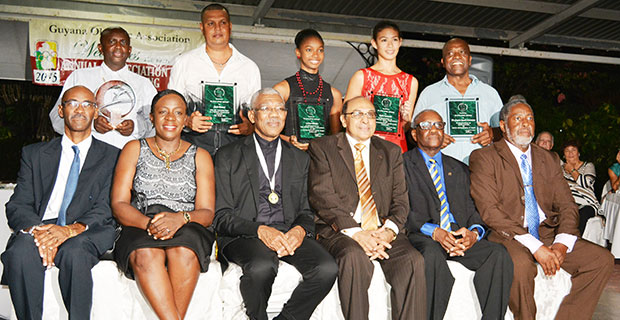 … President Granger tells GOA Awards Ceremony
By Daniel Haynes
"SPORT has an exciting future in Guyana." The words of President David Granger. The President was at the time speaking to dignitaries, association heads and sportsmen and women during the Guyana Olympic Association's annual awards programme at the Georgetown Club on Friday evening.Giving the feature address, the President continued, "The Guyana Olympic Association has toiled to develop sport and I congratulate you for your work over the past year. I wish the association all success in this year, an Olympic Year.
I look forward to a strong national representation at this year's Olympic Games in Brazil."
President Granger spoke about the history of sport in Guyana, chronicling how each discipline was race-oriented and until the 20th century changes began to happen.
He also stated that the removal of rigid racial lines and divisions saw the outpouring of some of the greatest athletes Guyana ever saw.
Meanwhile, the first award of the night was the Sports Journalist of the year award. This went to Kaieteur News Sean Devers. This was followed by the second award for Support to Youth Development in Sport, which went to the Guyana Squash Association.
The Guyana Squash Association also saw two of its members take home the outstanding performance in Sports award. Larissa Wiltshire and Taylor Fernandes brought home bronze in the Commonwealth Youth Games in Samoa of 2015.
Godfrey Wray won the contribution to the Development of Sport and the accolades and titles spoke for him. A founder of the Pele and Santos football teams in Albouystown, and an accomplished journalist, were just a few of the titles listed
The IOC Trophy 2015 under the theme "Sport & Innovation" went to Buxton Youth Developers for their efforts in restoring the Buxton community in the wake of violence that had rocked the community in prior years.
Prior to the awards, The GOA Secretary- General Hector Edwards, gave a report of the GOA's 2015 activities and how the association had made strides in the different disciplines.
The GOA President K.A Juman-Yassin in addressing the audience spoke of the GOA's expressed commitment to boosting the standard of athletics in Guyana.