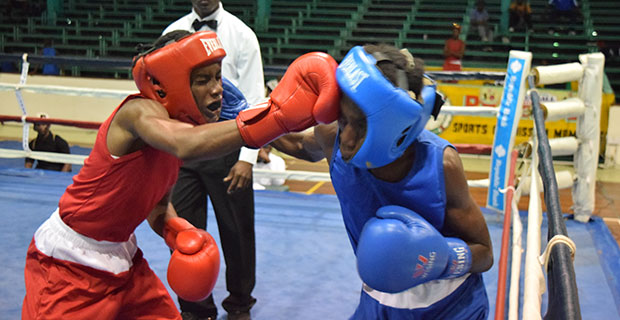 Guyana, St. Lucia and Jamaica share the spoils on opening night
By Michael DaSilva
GUYANA, St. Lucia and Jamaica shared the spoils when the Inaugural Caribbean Schoolboys/ Junior boxing championships got under way on Friday evening at the Cliff Anderson Sports Hall.The championships which were to have concluded last evening at the same venue, saw the locals winning three of their six contests, while St. Lucia won two of three and Jamaica one of three.
Apart from the Caribbean championships, there were also fights between local schoolboys in the various weight categories and like their more accomplished counterparts, they displayed immense ring skills which augurs well for the future of the sport from a Guyanese view.
Despite a small number of spectators, those that were present were treated to some exciting fistic action as in the Caribbean championships, the Islanders were up to the task and proved to the Guyanese that they must not be underestimated.
In the opening regional bout, St. Lucia's Kareem Boyce contesting the lightweight category, scored a second-round knock-out victory over Guyana's Deshon Elcock and in the same division, Guyana's Christopher Moore won a unanimous decision over his fellow Guyanese Daniel Hylton to set up a ring date last evening with Boyce.
In the light welterweight division, St. Lucia's Nathan Ferrirre forced the referee to stop his fight against Guyana's Joshua Corbin in the second round of their three-round contest and he (Ferrirre) was down to face Jamaica's Jerome Enniss last Night.
Enniss defeated Guyana's Quincy Boyce by a unanimous points decision.
In the welterweight category, Guyana's Akiel Mounter and Michaell Edwards made light work of St. Lucia's Taj Brown and Jamaica's Joshua Forrest Davidson respectively.
Mounter and Edwards were down to contest the final last evening in an all-Guyanese affair.
In a recent interview with Chronicle Sport, Brown had said he trained very hard for the championships and was here in Guyana to win the gold, but unfortunately, Mounter denied him the opportunity.
Boyce, who had lost to Guyana's Jevon Lampkin last November when the Guyana Boxing Association hosted the Caribbean development card, told Chronicle Sport that loss was by a mere one point and this time around, he would prove that action speaks louder than words.
In results of the fights that involved all local schoolboy fighters, the 65-69 pounds weight division saw Deron Williams beating Dwayne Baptize on points, while in the 95-99 pounds division, Kevin Mullen defeated Sherman Hutson and Shakiem Jones got past Matthew Mitchell. Both fights went the distance.
In the 100-104 pounds weight category, Isaiah Moore defeated Junior Hyman on points and Delroy Elcock beat Joel Allicock in a similar manner.
In the junior category, Omar Pollard defeated Joshua Ross by points in their 40-40Kg weight division.
In the lone female fight of the night, Rianna Rogers got past Rondesa Bagot on points and was down to face Akesa London last evening.