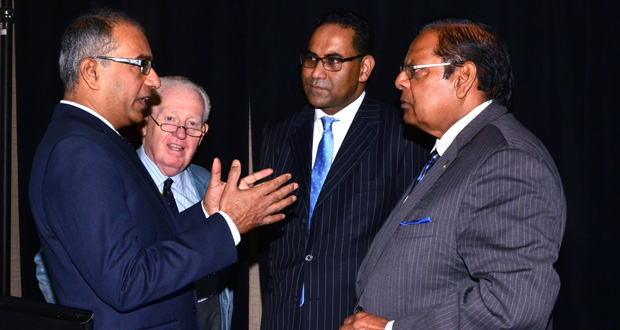 By Svetlana Marshall
PRIME Minister Moses Nagamootoo said his government aims to facilitate dialogue amongst national stakeholders and to practise an open-door democracy based on consultation and inclusion.
He made the remarks at the opening ceremony of the Commonwealth Parliamentary Association (CPA) Post-Election Seminar for the Parliament of Guyana, held at the Marriott Hotel."We need to negotiate ourselves out of any potential political and constitutional crisis, ethnic tensions and social inequities. We must ride on a new wave of democracy that is multi-party, multi-ethnic and multi-cultural. In this regard, political dialogue with the opposition is important. Bi-partisan cooperation is critical," the Prime Minister said.
In addition to MPs from both sides of the House, the forum was attended by Speaker of the National Assembly, Dr. Barton Scotland; Clerk of the National Assembly, Sherlock Isaacs; Member of Parliament Nepean Chandra Arya and Senator David Smith (Canada) were among those present.
Prime Minister Nagamootoo delivering the feature address, said although Guyana will this year celebrate its 50th Independence Anniversary, the country still operates in the shadow of a colonial legacy of division, ethnic polarisation and political discord.
NATIONAL UNITY
"Since independence we [have] held 10 national and three local government elections. I lived through all of them, and though they were occasions for momentary celebrations, they brought no lasting solution to our need for national unity. Electoral politics has highlighted and dramatised the fragility of our parliamentary system," he said. In 2011, he added, the parliamentary majority swung in favour of the opposition, and in 2015 the pendulum shifted and favoured the Government, in both cases by "a razor-thin majority of one." This, Prime Minister Nagamootoo said, was achieved through political will and negotiating prowess. "In a parliament such as ours therefore, negotiation becomes a political necessity. Negotiation has to be the tool to skilfully carve out from the almost impregnable fortress of parochial and partisan political interest, the broader outlines of nation-building."
The benefits to be derived from such a platform of unity are far-reaching and deeply impactful, he further posited, explaining that it will allow for equal rights and representation at all levels for all citizens, regardless of ethnicity, gender, age or geography; preservation and application of fundamental human rights for all; triumph of the rule of law; adherence to the separation of powers and open governance.
Moving ahead, he said "We need to negotiate ourselves out of any potential political and constitutional crisis, ethnic tensions and social inequities. We must ride on a new wave of democracy that is multi-party, multi-ethnic and multi-cultural."
Not removed
Meanwhile, Secretary-General of the Commonwealth Parliamentary Association (CPA) Akbar Khan, said Parliament should not be a remote institution removed from its citizens. He said, rather, the Parliament should be accessible and accountable to its citizens. "It must be equipped therefore to respond to national and international challenges to a population that is increasingly more active, more engaged and more demanding with its expectations of parliamentarians."
RIGOROUS ACCOUNTABILITY
The Executive, he said, should be held accountable in the most rigorous, vigorous and transparent manner, with the Opposition being central to an effective Parliament. "Parliament is a key pillar of any functioning democracy," the CPA Secretary-General emphasised. "Parliament, in my view, are powerful agents of change sitting at the centre of a network of accountability that reaches into the Executive and other branches of Government, political party system and ultimately accountability to the public." The Secretary-General said given the recent elections here, the CPA stands ready to contribute to the strengthening of democratic governance in Guyana. He noted that the association aims to advance parliamentary democracy by enhancing knowledge and understanding on democratic governance, building an informed parliamentary constituency and fostering cooperation.
The two-day forum, which is being held under the theme, "Negotiation and Nation-Building" will conclude today. It is anticipated that mechanisms for enhancing the working relationship among Members of Parliament would be placed on the table at the end of the forum. Additionally, the forum provided a platform for the various representatives to discuss the parliamentary practices of other Commonwealth Parliaments with the local Members of Parliament, apprise members of the recent developments of the Commonwealth and the role of the CPA. It also would provide members with a better understanding of financial scrutiny and administrative support for the operation of an effective committee system.