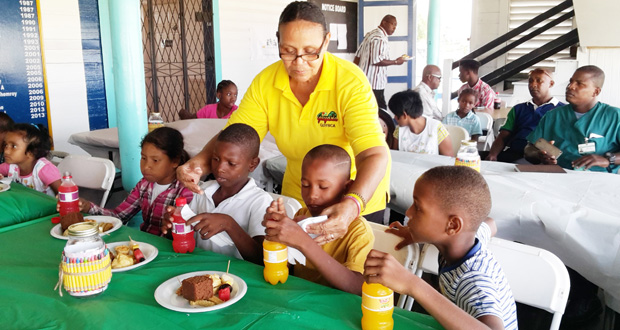 PERHAPS her struggles as a young woman raising six children contributed to her desire of advocating for the less fortunate; or maybe it's because she lost interest in politics and thus had the additional time on hand to devote to others.
Whatever is responsible for the way her life turned out, Ms. Theresa Pemberton, well-known as "Miss Terry" for short, today advocates for several organisations including the Guyana Blind Cricket Association, the Guyana Society for the Blind and the Guyana Council of Organisations for persons with disabilities.
Ms Terry, 67, was just 34 years old when her dear husband, Mr. Winston Victor Jankie, died and left her with six children. Their last child was just about five years old when Mr. Jankie died.
Ms Terry hadn't a secondary education, as she dropped out of St. Roses High to marry Mr. Jankie after just six months of attending that school. While her parents, Doris and Rupert, and older siblings came to her rescue, Ms. Terry used the opportunity to go back to school and took up classes at the Critchlow Labour College.
"I was the last of my siblings so my older brothers and sister sheltered and looked after me. Those were different times; families were bonded. I wanted so much to go back school and I was allowed that privilege while my family looked after the kids," Ms. Terry said in an interview with the Guyana Chronicle this week.
Although Ms. Terry had opportunities to remarry, she said she is glad she chose not to, as she would not have been able to be an activist today.
Politics
In her youth, Ms. Terry loved politics and she began pursuing it when she became a member of the Young Socialist Movement (YSM), the youth arm of the People's National Congress (PNC). "I loved politics and I loved the challenges that came along with being a YSM person."
She recalled: "My mother was a very strong PNC woman and my father was a very strong United Force (TUF) man and when I got married, my husband was a very strong PPP (People's Progressive Party) guy and I was a strong PNC woman. But that didn't stop us from loving each other and never caused a problem with our marriage," Ms. Terry recalled.
However, Ms Terry's feelings about politics changed when the late President Forbes Burnham died. "I'm a member of no party now. Politics is way out of my grasp. I'm just a Guyanese citizen wanting to see the best in each Guyanese and whatever is best for them, I'm with it.
"I loved politics. To be honest, when Burnham died, politics died in me. That's it. I don't know why but that was it. He was like a father figure and after he died, I realized I wanted nothing else to do with it. A lot of things hurt me when he died. And so I didn't want anything to do with politics anymore, on to this day.
Ms Terry, who served as the Coordinator of the Kitty/Campbellville District under the PNC, later continued her career at the Parliament Office. She is a relative of Mr. David Rose, who was once governor of Guyana and died in England.
Blind Cricket
Ms Terry got into her advocacy career in 2005 with the Guyana Blind Cricket Association where she works with those who are totally blind and the partially sighted. "The ball they use is one that makes noise. I help to train them; keep them in line," she explained.
In fact, Ms Terry generally likes to work with young people and would do her best to be of assistance to them. "I'm a very strong disciplinarian. I believe in young people being very respectful and disciplined regardless of whatever their life status is. I strive for discipline in them. I love people. I love to see young people aspire to meet the top. I go all the way out for them.
"Always have a listening ear for young people. They might not be what you want them to be. The challenges they face today… I don't think I could have coped with them. For them to be strong, we have to help them. Our children are what we help them to become. We have to fight to save them," she expressed.
Ms Terry is a member of the Malteenoes Sports Club and an executive member on the West Indies Cricket Council for the Blind.
She is also a proud grandmother and great grandmother.