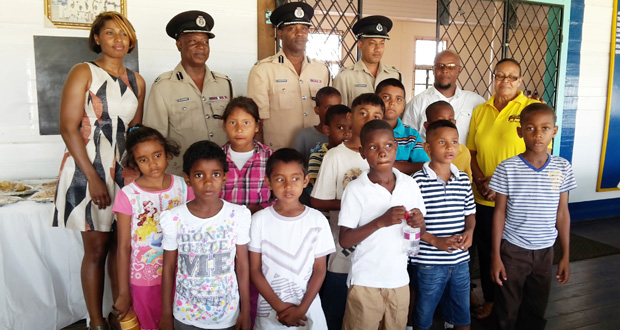 THE 'Next Generation Foundation', a facility that intends to assist any underprivileged child, was yesterday officially launched in Guyana by overseas-based Guyanese Keevi Browne.
A simple ceremony held to signify this opening was held at Malteenoes Sports Club on Thomas Lands, Georgetown and saw in attendance local Director Shawn Holder and Deputy Commander of
Police 'A' Division, Fazil Karimbaksh; and Commanders of 'B' and 'C' Divisions: Ian Amsterdam and Marlon Chapman respectively.
Children from the Ptolemy Reid Rehabilitation Centre and the Joshua House also comprised part of the audience, and enjoyed many goodies, compliments of Ms. Browne.
UNDERPRIVILEGED KIDS
The foundation, originally from the United States, decided last October to work along with overseas sponsors to build community centres for the benefit of underprivileged kids and shelters throughout Guyana.
"This foundation and its work (are) very humbling. It's one thing to receive these blessings, but another thing to give back," said Browne.
The facility will help children and young adults — even those who are disabled — to learn how to do little things, such as preparing a resume and using a computer. The first event it held was a toy drive in December.
"A lot of my fundraising is done overseas, and I bring everything here. We will be working with Joshua House; the GPF, that work with kids in bad communities, and anyone who needs it. We are still looking for office space and property. We have a lot of work to do," Browne explained.
She recalled her family always being into charity and said that this may have influenced her interest in being of help to others. "When I came back to Guyana last year, I realized how much I can be of help here when I saw how many kids can be helped through this foundation," Browne said.
Within the next two to five years, she disclosed, they intend to build four or five shelters in various communities across the country.
'LEARN, DREAM AND DEVELOP'
Holder said that by means of the foundation, every child will be given the opportunity to learn, dream and develop. "I was once underprivileged like them. The idea is not about presenting gifts and learning ideas, but we want scholarships to be provided to help these children qualify and further develop their skills. Plans are also ahead to introduce the children to various sporting activities."
According to Holder, the Malteenoes Sports Club will be made into one of the buildings at which the children can learn to develop their skills in cricket, table tennis and the like. "It's a burning desire of mine to help in this way," said Holder.
The foundation can be contacted on telephone numbers 625 – 0824 and 690 – 6998.