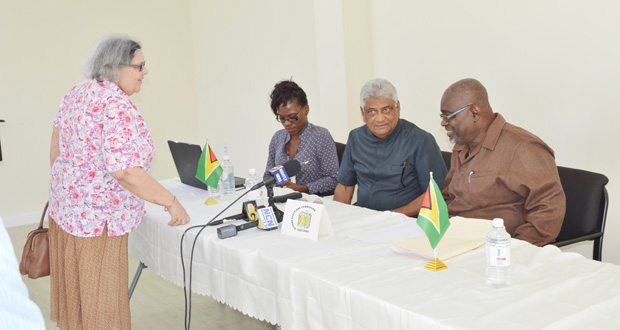 – Surujbally says GECOM will not take blame
By Ravin Singh
THE Guyana Elections Commission (GECOM) said on Saturday that voter turnout at Friday's Local Government Elections (LGE) was below 40 percent, but it is not to be blamed for this low turnout.
"No! GECOM will not take any blame," GECOM Chairman Dr. Steve Surujbally declared at a press conference held at the Commission's Waterloo Street, Georgetown office.
"We cannot take the blame. Many people did not know the candidates they were voting for. More work needed to be done by people who wanted to be in leadership," he declared.
Chief Elections Officer Keith Lowenfield has said voter turnout was recorded at between 38 and 39 percent.
Most of the candidates in Friday's Local Government Elections lamented the low voter turnout at the polls during the early part of the day, and their hopes for an improvement in the situation during the day were not realized.
The lack of voter education and lack of knowledge of the impact of these elections on the lives of citizens were among some of the reasons cited for the poor turnout.
And with GECOM having no mandate to push voters' education, the elections regulatory body is refusing to take the blame for the low turnout.
Dr Surujbally said GECOM took upon itself to get the job done when contestants in the LGE should have taken the responsibility of voter education upon themselves. Noting that no one working at GECOM was participating in the elections, he said it was not GECOM's job to educate voters, since this isn't prescribed by law.
However, he said GECOM did help in this regard, with the Commission's staff being out in the fields educating voters up to the day before the elections.
Dr. Surujbally said: "There is no blame" to cast, since GECOM had been prepared for the election since 2010. He noted that even up to last year, the voter education campaign had intensified, with call-in television programmes being hosted.
"This was not something that started a week ago," he said, adding that where GECOM is failing, one can be assured that it will correct its faults.
NOT SHARED
His view wasn't shared by People's Progressive Party (PPP) GECOM Commissioner Bibi Shaddick, who thinks that GECOM's voter and civic education programme had started late, and that was a contributory factor to the low voter turnout.
"We wanted it to begin much earlier, and for a longer period…," she declared. "Some ads were too verbose," she added.
Shaddick also shifted blame to the media for underreporting on LGE and for not aiding enough in the voters' education.
DYNAMICS
A Partnership for National Unity + Alliance for Change (APNU+AFC) Commissioner Vincent Alexander examined the dynamics of these elections and posited that, universally, low voter turnout has been recorded during local government elections.
According to him, to establish the reason for the low voter turnout, an assessment would also need to be made in regard to the number of eligible voters who are not resident in Guyana.
With the elections being "successfully completed", as was described by the CEO, the official results would be released after some statutory subsets have been satisfied by GECOM. This, Lowenfield said, will be done in "a matter of days", as is prescribed by laws which guide the conduct of these elections.
Stalling the process to some extent, though, is recounting, which has been requested by the People's Progressive Party (PPP), particularly in Region Six.
"That is the nature of elections, not only in Guyana. Contestants will raise issues that need to be addressed. We were able to address most, if not all, of the issues, and we will continue in the coming days to continue our statutory requirements to bring closure to the elections," he said.
"Once the operation has been successfully executed, GECOM will then make recommendations for the improvement of the electoral system," Lowenfield said.