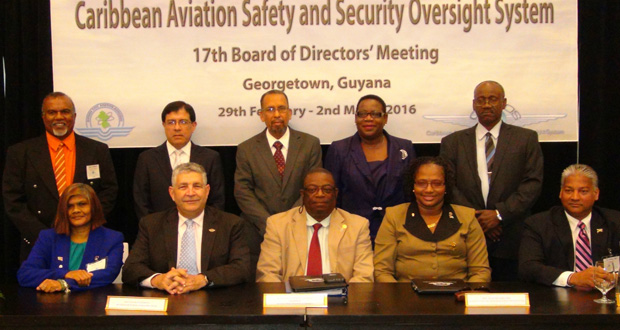 AS GUYANA strives to overcome its challenges in the aviation sector, Minister within the Ministry of Public Infrastructure, with responsibility for aviation, Annette Ferguson, has declared that the nation is setting the stage for a more robust sector.She made this statement during the 17th Board of Directors' meeting of the Caribbean Aviation Safety and Security Oversight System (CASSOS) on Monday. This meeting will run until March 2.
In opening the meeting, according to a press release from the Public Infrastructure Ministry, Minister Ferguson said there is a shortage of technical skills in the Caribbean. Through CASSOS, countries with limited human resources are provided with an avenue to access key technical expertise to keep the aviation sector performing optimally, she said.
She stressed that Guyana is poised to significantly upgrade its aviation sector.
"In Guyana, we are setting the stage for a robust aviation sector, one that plays a vital role in the national sustainable development of our country," Minister Ferguson said.
She added, however, that there are challenges facing Guyana's aviation sector, one of which is the country's low level of compliance with the International Civil Aviation Organisation (ICAO). She also noted the need for adequate staffing to boost safety oversight.
"But I am confident that we will repair and develop our system," Minister Ferguson said.
To this end, she explained that, in the 2016 National Budget, the Government of Guyana has made provision to support the ICAO Compliance Project, as well as to upgrade the country's air navigation service through the implementation of the aeronautical surveillance service using ADS-B.
"Guyana has made some strides in our efforts for regional aviation security integration and collaboration," she added.
The minister deemed Guyana's hosting of the CASSOS meeting as not only timely, but historic.
"The opportunity of hosting this meeting in Guyana is timely and is also an historic one, as this CASSOS 17th Board of Directors' Meeting is the first official meeting in Guyana since CASSOS was formally launched in February of 2009 in the headquarters of the CARICOM [Caribbean Community] Secretariat," Minister Ferguson said.
She said that CASSOS has chosen to come to Guyana at the right time, since the country is preparing for its 50th Independence Anniversary in May 2016.
She stressed that she understands the important work of CASSOS and its contributions to member countries and the aviation sector. "We are all working towards achieving the same goal of a safe and secure aviation sector, to preserve the impressive track record of air transport as the safest mode of transportation," she emphasised.
Minister Ferguson expressed concern at the use of drones because of the safety threats they present, and urged CASSOS to urgently "develop rules and regulations which will be adopted by member states for implementation."
"We must act swiftly and quickly," she stressed, noting that last month a drone had come in close proximity of an airborne helicopter of the Guyana Defence Force (GDF).
CASSOS Chairman, Nari Williams-Singh, extended gratitude to Guyana and the Guyana Civil Aviation Authority (GCAA) for hosting the meeting. He revealed that, over the next few days, participants will engage in "intense but focused" discussions that seek to ensure CASSOS states are compliant with ICAO standards.
"Our agenda over the next few days is very extensive, as we seek to collaborate and harmonise for the good of aviation in the region," Williams-Singh said. He continued: "The areas of safety and security are paramount, as we take our mandate seriously as we embark on various activities in our individual member states, while maintaining that focus on collaboration and harmonisation."
He also said that the growing issue of environmental protection should be an area of focus.
Besides Williams-Singh, other CASSOS representatives who were present for the meeting included GCAA Chairman Lawrence London, along with GCAA Director General Chaitrani Heeralall.
Guyana signed on to the CASSOS Agreement on July 2, 2008, and is now one of fifteen in the region under the body. Other nations include Barbados, Jamaica, Suriname, Trinidad and Tobago, Antigua and Barbuda, Dominica, Grenada, Montserrat, St Kitts and Nevis, St Vincent and the Grenadines, Anguilla, and the British Virgin Islands.
Guyana's partnership with CASSOS is expected to raise the nation's ICAO compliance, which currently stands at 44 percent. The regional average stands above 70 percent.