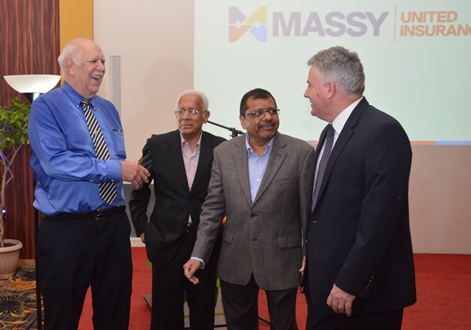 By Svetlana Marshall
MASSY United Insurance Limited, one of the leading general insurance companies in the Caribbean, has officially launched a branch in Guyana taking over the John Fernandes Insurance Company.
Chairman of John Fernandes Insurance Services Christopher Fernandes, Massy Country Manager Deo Persaud and Chief Executive Officer of Massy United Insurance, Howard Hall collectively launched the branch here during a reception held at the Pegasus Hotel on Tuesday night in the presence of a number of stalwarts in the business community.
In his address, Fernandes explained that John Fernandes Insurance Services had encountered difficult times during the early 1990s, and it was during this period that the company had turned to United Insurance Company which was subsequently acquired by Neal and Massy through the acquisition of BS&T – a Barbadian conglomerate.
"It has taken a few years of negotiation but I am happy today to announce that we have reached an amicable agreement. The pleasure of our agreement is not only for my benefit, but for that of our loyal policyholders who have struck with us through the years as we changed from one principal to the next," Fernandes explained.
Based on the agreement struck between the two companies, Fernandes will remain associated with the company for a minimum of five years to ensure the smooth transition.
"I will continue to be their Principal Representative in Guyana and take this opportunity to invite you to allow Massy United to advise you and service your insurance needs, either directly or through your preferred Broker."
The leadership and staff of John Fernandes Insurance Services were applauded by the Chief Executive Officer of Massy United Insurance for their excellent representation of United Insurance Company Limited over the past 14 years.
"Many of you may have known about United Insurance Company but not realized that we were part of the Massy Group. In fact, we have been part of the group since 2009 and are proud to share the purpose of being a Force for Good," Hall said while pointing out that Massy United Insurance is one of the largest insurance companies in the Caribbean, operating in 19 countries from Guyana, the Bahamas and Belize.
"We are also one of the most financially strong General Insurance companies in the Caribbean, with capitalization in excess of US$70M. This is also attested to in our A-Excelling rating by AM Best, the foremost rating agency for insurance companies worldwide for 10 consecutive years."
The company's success, he said, was not without challenges, pointing out that it responded to numerous natural catastrophes over the years.
"However, we will not stop there," Hall assured adding that, Massy United Insurance is on a journey to become a great company. This objective will be achieved through expansion, he posited.
"Last year we expanded our reach to a further two territories in the Caribbean, and this year we will commence operations in 4 more territories, giving us the distinction of the greatest reach of all General Insurance Companies in the Region."