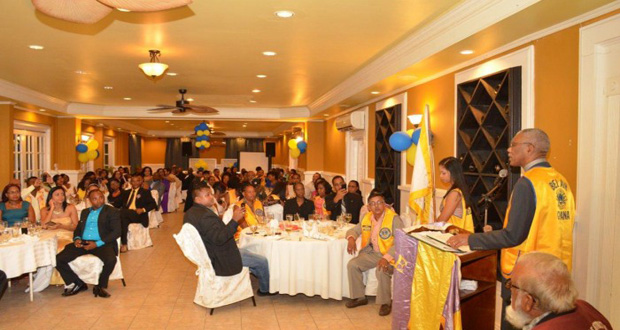 PRESIDENT David Granger has challenged the Lions Club of Bel Air, and other similar organisations, to look at their plans of action to ensure they remain responsive to the needs of the country.The President, an honorary member of that club, made the call at the Club's 43rd Charter Anniversary on Saturday evening. He, however, praised the club for its outstanding service over the years.
At the Georgetown Club's Camp Street venue, where the proceedings took place, the President said: "You have a good reputation. You have a proud record of service, and I congratulate you," He added that he is proud to be an honorary member of the club.
However, the Head of State said that in a year that he has designated the Year of National Renaissance — Guyana's 50th Anniversary of Independence — it is critical that all Guyanese come together to address the problems facing the country.
President Granger accordingly called on the Lions to be guided in their work by what is taking place in the rest of the country.
"That Renaissance requires responsiveness, and this is the year in which we can respond more vigorously, more purposefully, to deal with the problems facing the society; problems which are corroding our social fabric; problems which are gnawing at the nation's economic muscle; problems which are rotting the moral fabric of society," the President said.
The Head of State added that it is his personal hope that Guyana's 50th Anniversary of Independence will be a time of reconciliation as Guyana heals the wounds and repairs the damage it sustained in the period leading up to the 1966 event.
"We have to work together to achieve that national unity, and in order to improve national cohesion in order to develop that common purpose and enhance the common good…. It is not going to be easy, but we will not get much further forward, we will not move much faster, unless we heal those divisions and achieve a common purpose — that purpose of being Guyanese; of building a kinder, gentler, more humane society."
According to the Ministry of the Presidency, among the critical priorities the President named at this time are crime, disease, access to education, and teenage pregnancy and poverty.
"I have a plan of action in designating this the Year of Renaissance; and I hope that I will be able to more positively tackle the problems of children's education, of juvenile crime, of disease — particularly of maternal deaths and of poverty — if we are to achieve that target of a rebirth, something I dream about," President Granger said.
President Granger was formally inducted into membership of the Lions Club of Bel Air by President of the Club, Mr. Matthew Langevine; in presence of Mr Leon Rutherford, Club Secretary; and Mr Sheikh Nasseer, Director of Membership. The President was accompanied by First Lady Mrs Sandra Granger.