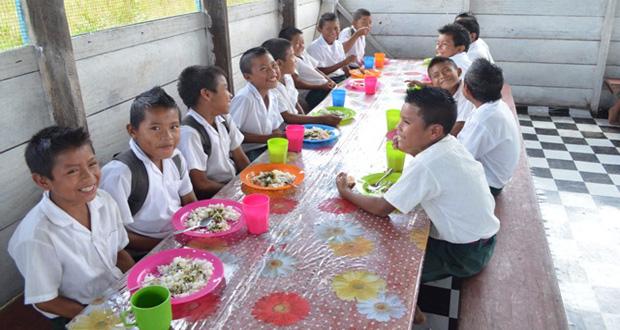 Some $1.9B have been allocated to the National School Feeding Programme this year, an increase from the $1.3B last year, to cater for hot meals for over 7,000 additional hinterland students.
This announcement was made by Finance Minister Winston Jordan on Friday last in his second budget presentation to the House.
He also informed the august body that, in an effort to ensure students at all levels have access to teaching-learning materials, Government would introduce the Education Resources Delivery Software in 2016.
"No child should be asked to learn without having access to the requisite textbooks, and our Government will ensure that this barrier is removed," Minister Jordan said.
In keeping with the tenet that access to potable water is a fundamental human right, Government will this year strengthen systems in order to achieve the targeted outcomes in the water sector.
Minister Winston Jordan said the National Water Council, the Non-Revenue Water Reduction Programme and the Dakoura Creek Watershed Protection Plan will be resuscitated.
"In tandem with these initiatives will be our drive to increase national water delivery coverage. In this regard, we spent $1.6B in 2015 to expand and rehabilitate the water supply and distribution systems across the country. For the first time, over 1,200 residents are receiving potable water in Ann's Grove, Angoy's Avenue and Friendship," he said.
The minister added: "Another $4B (have) been allocated this year to improve and expand access to water across Guyana. Areas that will be targeted for water supply and line distribution improvements and expansion include Paramakatoi, Mahdia, Mabaruma, Port Kaituma, Hubu to Naamless, Waiakabra, Yarrowkabra, Area 'C' Golden Grove, Victoria, Lusignan, Le Ressouvenir, Vryheid's Lust, Albouystown, West La Penitence, Baramita, Parakees, Canal Bank, Belladrum, Lovely Lass, Itaballi and Tiger Pond. Over 18,000 persons are expected to benefit from these improvements, while another 11,000 persons will benefit from the rehabilitation of water treatment plants at Cotton Tree and Bartica."
NEW WELLS
New wells are earmarked for Vergenoegen and Lima Sands, while a ground storage facility will be installed in Sophia.
"We have allocated $2B for the drilling of new wells at Uitvlugt, Diamond and Sheet Anchor. Further, a programme costing $5.6B is being designed that will see new water treatment plants constructed at Friendship, Hope Estate, Bush Lot, Leguan, Bartica, Port Kaituma, Mabaruma and other locations in Regions 2 and 6," Mr Jordan informed the House.
Upon the assumption of office, the Coalition Government heralded the rebirth of "my clean space" and the public's response shows that the Guyanese people have embraced and are championing this initiative.
Last year, the Georgetown Restoration Programme was initiated, for which $300M (were) allocated. This programme realised the transformation of several communities within Georgetown. Families can now enjoy restored areas designated for recreation and entertainment.
To further advance this successful initiative, Government in 2016 has budgeted a further $200M, while another $319M will be expended on the Solid Waste Disposal Management Programme.
"This year, we expect to finalise the National Solid Waste Management Strategy, establish an inventory of all future landfill sites, and construct a sanitary landfill site in Bartica, which will bring much needed relief for residents of this community. Other activities include the execution of critical drainage and clean-up works within the local communities of the city, which will be executed by community groups. We intend to seek financing through the UK-CIF to complete Cell 1 of Haags Bosch Sanitary Landfill, operationalise Cell 2, and upgrade sanitation facilities in the existing six townships," he said.
In budget 2016, provision has been made for the lifting of standard of living in all the administrative regions.