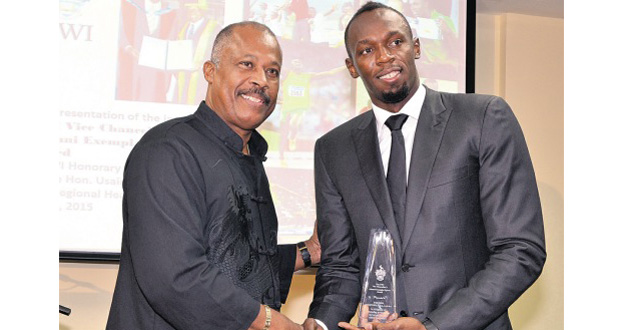 Usain Bolt has earned an honorary doctorate, the Order of Jamaica, and numerous entities named after him, on Thursday, the fastest man on the planet added to the long list after he received the inaugural Vice Chancellor's Alumni Exemplar Sports Award."Dr Bolt is one of the greatest men of Caribbean times, and it is fitting that the UWI – a highly respected Caribbean institution – acknowledge his legendary athletic prowess and contribution to regional advancement," said Professor Sir Hilary Beckles, University of the West Indies Vice -Chancellor.
The new award, Beckles explained, recognises outstanding performance, good sportsmanship, the creation of a positive role model for Caribbean youth in the area of sports, as well as the awardee's affiliation with the UWI as a graduate.
Bolt has won six Olympic gold medals and nine World Championship gold medals, enjoying the feats along with holding world records in both the 100 and 200-metre events.
Bolt's honorary doctorate was given to him by the UWI in 2011 while he also has sports facilities at the UWI, Mona in Jamaica and Cave Hill in Barbados named after him.
The sprinter has also earned the IAAF World Athlete of the Year, Track & Field Athlete of the Year, and Laureus World Sportsman of the Year Award.
(Sportsmax.com)