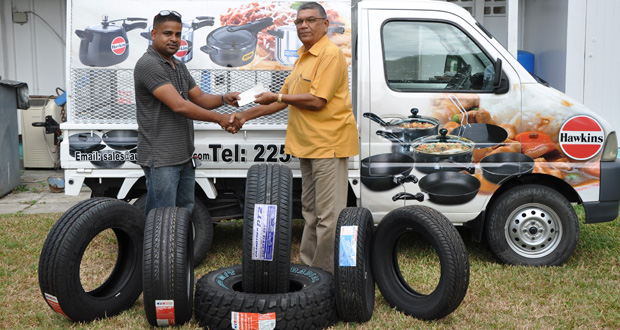 With the final leg of the Caribbean Motor Racing Championship (CMRC) just 14 days away, local competitors are busy heightening preparations ahead of what is considered the biggest Racing Meet in the Series.The Meet which involves countries such as Guyana, Barbados, Trinidad and Tobago, Suriname, Jamaica, Cayman Islands as well as competitors from Canada and the USA will be staged on November 15, at the South Dakota Circuit.
Auto Supplies, importers of Hawkins Pressure Cookers ad other kitchen appliances, Dunlop and GT Radial tyres and Gree and Lenox Air-conditioners offered its support to Team Xtreme by providing much needed tyres for the machines that will represent the team during the CMRC.
Speaking with General Manager Patrick Koo, who made the presentation to Team Xtreme Manager David Bacchus, at the Company's Head Office on Peter Rose Street in Queenstown, he said that the goodwill was born out of an existing relationship between racer Gavin Gayadin and the entity which goes back quite a few years.
"He approached us and we saw it as an encouragement and upliftment for the sport to adequately equip competitors to perform to their maximum during the event," he stated.
Koo disclosed that he and Managing Director of the Company Brian James are ardent followers and supporters of the sport and the entire sporting fraternity hence there was no hesitation in assisting Team Xtreme in their exploits to do well at the November Meet.
Gayadin, who has been on a brief hiatus in the sport, is planning a return at the upcoming Meet and as part of his preparations did engage the Company for much needed support in a sport that without corporate involvement it is virtually impossible to do well.
Meanwhile, Bacchus in his response thanked the Company for its invaluable contribution to the Team and promised to produce the kind of results that will make them proud.
He mentioned other sponsors such as Royal Castle, Auto Stop, Star Car Auto sales and Singh's Roti Shop as some of the other entities to have pledged support to them.