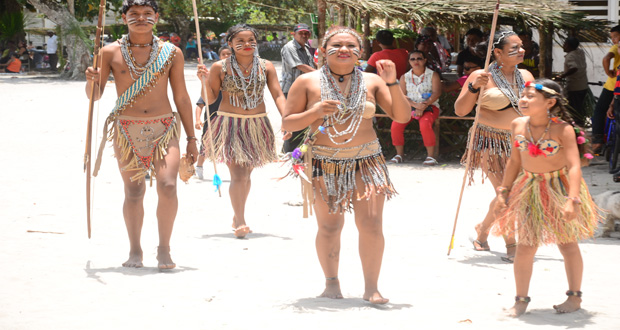 RESIDENTS of St. Cuthbert's Mission, one of the few developed indigenous villages in Guyana, are complaining of a host of problems that have, over the years, contributed to the loss of their indigenous culture within the community.When this publication visited the village last Saturday, residents apprised this reporter of the problems faced, the most pressing of which is unavailability of adequate lands to accommodate large-scale farming. They contend that the lands are used for building infrastructure, among other developments.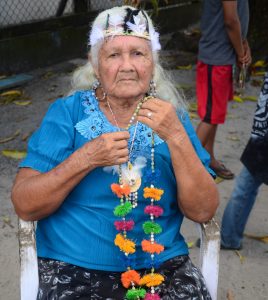 There is also the contention that the community's Arawak language is being depleted and that the community is suffering from a shortage of trained teachers at its secondary school.
Eighty-year-old Charlotte Oselmo is the niece of the village's first Toshao Johnson Bernard. She said that because the lands have been used principally for development, large- scale farming in the community has suffered, especially for the women.
"Sometimes if we want make cassava bread and other food, we does have to buy cassava from other people, because we don't have enough lands to grow these things," Oselmo pointed out.
The elderly woman said she would love to see the younger generation do more to restore the farming tradition in the community.
Before St Cuthbert's Mission was developed to suit the urban lifestyle, residents strictly relied on farming for produce as opposed to today, when produce such as cassava is purchased by just a few to be used for events within the community.
"Life was so nice because, long ago, we used to farm and get the produce; but now we don't get anything at all, because we don't have proper lands to farm on. I would like to see back farming," Charlotte demurred.
The community's Arawak language has been replaced by Guyanese Creole English, leaving just a minority who can speak the Arawak dialect.
"There used to be programmes available for teaching of the [Arawak] language, but they don't bother with it anymore," Oselmo said.
Crafting, a main activity of indigenous women, is gradually fading, Oselmo disclosed. She said girls in the community are often distracted by "other things," and this has contributed to less productivity when it comes to craft production.
A concerned single parent who wishes to withhold her identity, said the St. Cuthbert's Secondary School is packed with untrained teachers, and this has contributed to students failing exams. That parent suggested that government should create paths for those untrained teachers to further their education, in order for them to become qualified teachers and serve the people of the community.
Residents are also calling for "easy transportation" for the community, particularly for students studying outside of St. Cuthbert's Mission.
The mission has three schools, and residents revealed that there is currently one trained teacher in the secondary school, three trained teachers at the primary school, and no trained teacher in the nursery school.
The community is equipped with a health centre, but medication is hardly ever sufficient for villagers, according to another resident. Though some are complaining about the sloth in business, logging, on the brighter side, is blooming in the community. The logger making this revelation identified himself as 'Sheldon.'
"Logging going good, you know; it going fast here," he disclosed, and added that logging is the main occupation in the community, followed by mining.
Lennox Shuman, the community's toshao, said at the village's 30th Heritage Day celebrations last Saturday that, indeed, the indigenous culture is dying. For this reason, the community has made culture the highlight of the celebrations, as thousands of villagers came out in their numbers, decked in their traditional wear, to party heartily.
At the celebrations, Indigenous People's Affairs Minister Sydney Allicock announced that St. Cuthbert's Mission would be used as a model village for pilot projects, given that the village is within reach of all other indigenous communities in reasonable proximity to Georgetown.
"Here we can have pilot projects to showcase to others how things could be done so as to achieve economic and academic strengths," Allicock said.
He also assured the Arawak-speaking village that the languages of all the various groups of indigenous peoples, as well as their cultural practices, will be pursued and supported by both the government and the Indigenous People's Affairs Ministry. He said, too, that government in its quest for unity, promises to settle indigenous land claims once and for all as time progresses.