THE need for copyright laws to protect the work of musicians was underscored at the three-day Rupununi Music and Arts Festival, which began last Friday evening at the Rock View Lodge at Annai, in Region 9 (Upper Takutu-Upper Essequibo).The festival's focus was simple: Create a pleasant campsite in a wonderful setting; invite some great people with their families and friends; and provide some music that, maybe, they've never even heard on radio, while enjoying the pleasantries of nature.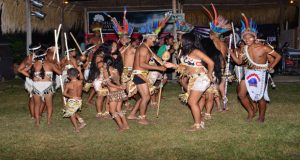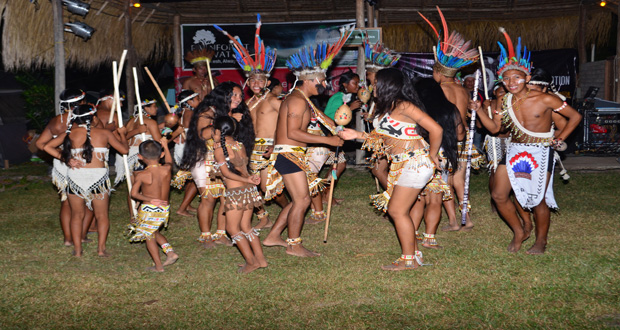 Minister of Tourism Cathy Hughes, who made the call for copyright laws, said music should be a viable and profitable investment for those in the sector.
"We have to become known for our music; it is only then that our music will help to build our tourism industry and become a driver to propel the industry," she said.
Noting that the Rupununi is one of few places in Guyana that has a mystical and alluring feel about it, which is what makes the festival all the more appealing, Minister Hughes said visitors and participants will have a taste of a priceless experience that will forever etch into their memory.
"Music and Arts touch us all, and leave memories," she said. "Sometimes even when we don't understand a language, we can relate to the music."
Indigenous culture and music are a reflection of Guyanese culture, she said. And it is this diversity that adds to the promotion of tourism.
"Music makes us who we are, and the festival has a fantastic array of this. We have found that our local music is receiving more attention recently, and therefore we must create an environment for this creative industry to flourish," she said, adding:
"Our children must be given these tools early in the school system, to support their education within the field of music, especially if they have the talent; it needs to be harnessed and encouraged. We have to encourage them to compose and create music, dance and poetry."
The Rupununi Music and Arts Festival is now a staple within Guyana's calendar of activities, and is roundly supported by the Government of Guyana and the private-sector.
Minister of Indigenous People's Affairs Sydney Allicock explained that the festival, established in 2014, is an interesting adventure, in that it provides visitors with many opportunities to explore Guyana's interior pre-and post-festival weekend. From bird watching to fishing; walking to horse-back riding, he said, it is an exploration of a beautiful region.
"The weekend offers a window into the rich variety of the Rupununi for everyone here," Minister Allicock said.
Coordinator Colin Edwards thanked all the entities that made the festival possible, the government, the Ministries of Tourism and Amerindian Affairs, embassies, local banks and the many private sponsors.
By Rabindra Rooplall