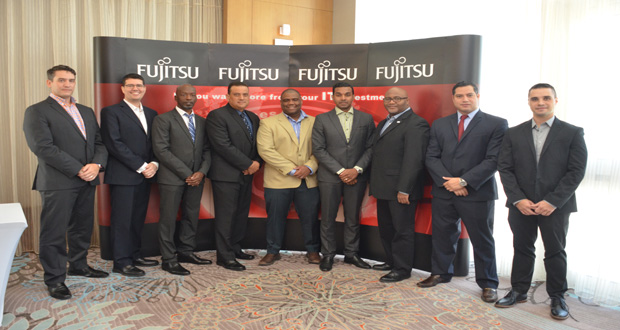 FUJITSU Network and Security, a major international IT services company, held a forum on Thursday at Marriott Hotel in Kingston, Georgetown, to re-introduce their products and services in Guyana.Vice President, Sales Fujitsu Caribbean (Trinidad), Stephen Juteram said they are here in Guyana to re-introduce their business in which they are at the forefront in next generation development in information and communication technology.
He noted that they have been here for a long time and a team is here to promote their products and services and strengthen the bond locally. They also gave an overview of the company at the event.
Before their name change, they were known as FORTUNE before they re-branded to Fujitsu, which is a Japanese information technology company that is 80 years old and existed in the Caribbean for some time, Juteram stated.
He pointed out that they are also focused in Central America and have since established an office in Mexico to cater to the needs of their clients worldwide and they have 140 data centres globally where their products and services are utilised.
Juteram said that they also have global alliances in which they tap into and they manage data centres remotely and work closely with telecommunication providers in the Caribbean.
He stated that they are probably the first company to have a data centre in the Caribbean and they have customers in Guyana as well, including Digicel Guyana and Banks DIH, among others.
Juteram added that they design, build and manage clients' IT systems and have from small scale to very large businesses and they are very happy with the quality services they provide where excellent customer service is experienced.
In remarks, Lance Hinds, Chairman of the Georgetown Chamber of Commerce and Industry (GCCI) outlined his organisation's perspective on the development of information technology and the way forward.
He told the gathering that GCCI is the oldest private sector organisation in Guyana and they will be celebrating their 125th anniversary this year and they are the voice of businesses locally.
Hinds said that information technology development remains a 'mixed bag' in Guyana and if we are to be IT driven, we must seek partnerships because our IT infrastructure is weak in some areas locally, as it relates to our Caribbean counterparts.
He highlighted the fact that within recent times the University of Guyana Computer Science Department has been providing better graduates than in past years, adding that we have a far way to go and harmonisation is required in that respect.
Fujitsu is the world's fourth largest IT services company, operating, implementing, managing and supporting the IT infrastructure behind the technology society.
Since their inception in 1935, they have maintained a commitment to technological innovation and uncompromising product quality by providing leading-edge, highly reliable performance information technology and communications solutions, designed to help customers unleash the infinite possibilities of the broadband internet for their businesses.
With about 175,000 employees supporting clients in 70 countries, Fujitsu combines a worldwide corps of systems and services experts with highly reliable computing and communication products and advanced microelectronics to deliver added value to clients.
By Michel Outridge