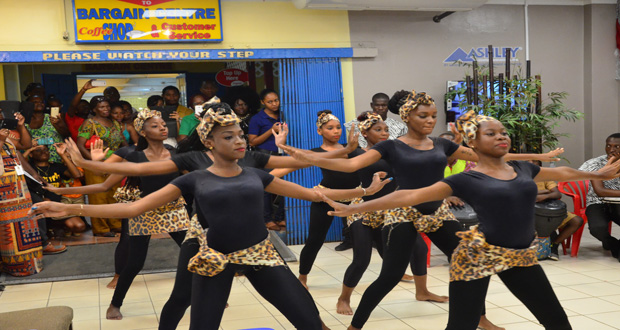 Courts Guyana Inc. celebrated the Emancipation anniversary with staff, patrons and friends yesterday at its Main Street operations. Patrons were greeted by drumming after which there was a display of traditional African wear by members of staff, who were a part of its annual traditional dress competition.
The audience saw cultural presentations, from the Happy Feet Dance Group and a poem by Eric Phillip. There was also a surprise dance by the Directors of Unicomer
Among those present were Mr Eric Phillips, representing the African Cultural & Development Association (ACDA); Mr. Clyde De Haas, Managing Director of Courts; and members of the Directors of Unicomer.
ACDA executive member Mr. Eric Phillips, in his presentation, congratulated the management and staff of Courts for their initiative in hosting this cultural event as Guyana celebrates its Emancipation Anniversary.
Emancipation pageant, which is the traditional display of African wear from some members of the Courts staff, saw employees Michelle Griffith and Ryan Charles emerging the winners.
The Managing Director of Courts, Clyde De Haas, made a monetary donation to ACDA for its celebrations for Emancipation. The cultural presentation concluded with winners exhibiting their attire for the audience.