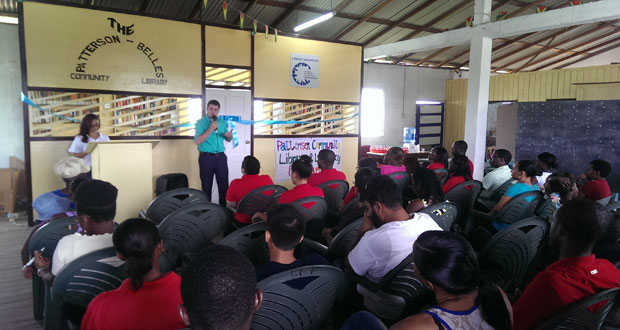 THE Global Shapers Community through its Georgetown Hub last Saturday launched the Patterson Belles Community Library in 'B' Field, Sophia, Greater Georgetown. 
This is the first community library to be opened through the Hub's Save the Libraries (STL) Initiative. Over 70 persons—including other youth group volunteers, and members of the community and the media—were present at the launch.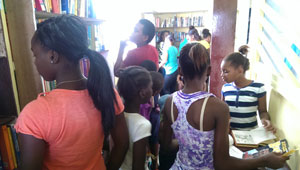 STL aims to increase access to reading materials and basic literacy services among the youth population. The creation of the library will be coupled with the provision of literacy and reading classes and a number of volunteers have already been trained to conduct the literacy programme. These volunteers include members of the Pattensen community, who will continue to run the programme after the initial training sessions have been concluded.
Collin Marks, a resident of the Pattensen community, was instrumental in the success of this project and has continuously supported the Georgetown Hub's efforts.
The project was championed by Shaper Louisa Mancey and works on the design and equipping of the library had been under way over the past 10 months, with construction of the library commencing in March. The project benefited from the partnership of Shapers and members of the community, and invaluable support also came from the UG Rotarac Club, Gafoors, Youths For Guyana and the REDbandaid Foundation, who provided construction supplies, monetary donations and volunteered their time.
The library has started with just over 1500 books and many more are still to be added through donations. Over 300 more books are on the way from the U.S. embassy and the Guyana Book Foundation. Individuals and organisations wishing to contribute to this project can contact Louisa Mancey on 225-1842.
The Global Shapers Community is a worldwide network of more than 350 city-based Hubs developed and led by promising young leaders between the ages of 20 and 30, who want to build on their achievements and entrepreneurial drive to make positive contributions to their communities. Together, they embody the "community of the future," bringing together empowered youth in a community that is diverse, decentralised, and digitally hyper-connected. The Global Shapers Community is an initiative of the World Economic Forum and is independent, neutral, non-political and non- profit.