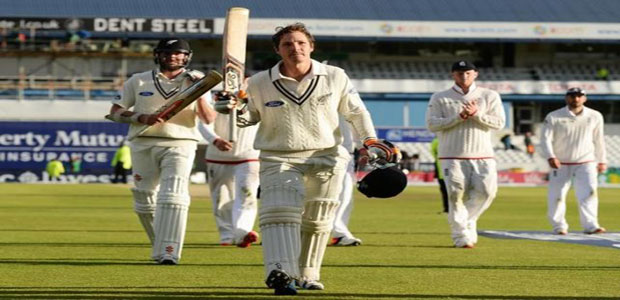 LEEDS, England, (Reuters) – BJ Watling scored a fine century as New Zealand dominated the final session with steely resolve to reach 338 for six on the third day of the second test against England yesterday.Watling and Brendon McCullum added 121 runs against a toothless England attack to help New Zealand move 338 ahead with two days of a fluctuating match left, well placed to level the two-Test series at 1-1.
England had resumed in the morning on 253 for five in overcast conditions at Headingley and New Zealand fast bowler Tim Southee claimed three early wickets to reduce the hosts to 267 for eight.
Ian Bell, on 12, edged a wide ball to Mark Craig at second slip, Jos Buttler nicked a full delivery to Ross Taylor at first slip to depart for 10 and Moeen Ali made one before being smartly taken at third slip by Martin Guptill.
New Zealand were eyeing a healthy first-innings lead but Stuart Broad and Mark Wood had other ideas and the pair added 51 for the ninth wicket from 49 balls.
Off-spinner Craig had Wood caught by wicketkeeper Luke Ronchi for 19 but Broad put on 32 for the last wicket with James Anderson before being bowled for 46.
England were all out for 350, only the eighth time in Test history that both teams made the same total in their first innings.
Broad continued to shine after lunch with the ball.
Tom Latham edged him to wicketkeeper Buttler for three and Kane Williamson fell in identical fashion for six to leave New Zealand tottering on 23 for two.
But Guptill and Taylor, dropped on six by Gary Ballance at slip, raced to a fifty partnership off 28 balls.
Guptill lifted Moeen straight for six to reach his half-century but the stand was broken at 99, Taylor driving Wood to Ben Stokes at cover to fall for 48.
Guptill's fine knock ended on 70 when he edged Wood to Joe Root at third slip but McCullum and Watling showed fierce determination in a patient fifth-wicket partnership.
McCullum went past 6,000 Test runs, the second New Zealander after Stephen Fleming to achieve the feat, before Wood trapped him lbw for 55.
Ronchi, after making a rapid 31, was caught by Buttler off Anderson but Watling completed a deserved century, his fifth in tests which included a six and 13 fours.
He will resume on 100 not out in the morning with Craig on 15 and New Zealand will attempt to bat England out of the game.
England won the first Test at Lord's by 124 runs.
NEW ZEALAND 1st innings 350 (L. Ronchi 88, T. Latham 84; S. Broad 5-109)
England 1st innings (Overnight: 253-5)
A. Lyth run out (Boult, Ronchi) 107
A. Cook lbw b Craig 75
G. Ballance b Boult 29
I. Bell c Craig b Southee 12
J. Root c Ronchi b Southee 1
B. Stokes c Craig b Boult 6
J. Buttler c Taylor b Southee 10
M. Ali c Guptill b Southee 1
S. Broad b Henry 46
M. Wood c Ronchi b Craig 19
J. Anderson not out 10
Extras (b-19 lb-5 nb-5 w-5) 34
Total (all out, 108.2 overs) 350
Fall of wickets: 1-177 A. Cook,2-215 A. Lyth,3-238 G. Ballance,4-239 J. Root,5-247 B. Stokes,6-257 I. Bell,7-266 J. Buttler,8-267 M. Ali,9-318 M. Wood,10-350 S. Broad
Bowling: T. Boult 30 – 7 – 98 – 2(nb-1 w-1, T. Southee 30 – 5 – 83 – 4(w-2)
M. Henry 20.2 – 4 – 92 – 1(w-2),M. Craig 26 – 12 – 48 – 2,
K. Williamson 2 – 1 – 5 – 0
NEW ZEALAND 2nd innings
T. Latham c Buttler b Broad 3
M. Guptill c Root b Wood 70
K. Williamson c Buttler b Broad 6
R. Taylor c Stokes b Wood 48
B. McCullum lbw b Wood 55
B. Watling not out 100
L. Ronchi c Buttler b Anderson 31
M. Craig not out 15
Extras (b-4 lb-6) 10
Total (for 6 wickets, 75 overs) 338
Fall of wickets: 1-15 T. Latham,2-23 K. Williamson,3-122 R. Taylor,4-141 M. Guptill,5-262 B. McCullum,6-315 L. Ronchi
To bat: T. Southee, M. Henry, T. Boult
Bowling: J. Anderson 16 – 4 – 58 – 1, S. Broad 13 – 1 – 52 – 2,
M. Wood 14 – 2 – 64 – 3, B. Stokes 12 – 1 – 61 – 0,
M. Ali 15 – 0 – 70 – 0,J. Root 5 – 0 – 23 – 0.
By Ed Osmond