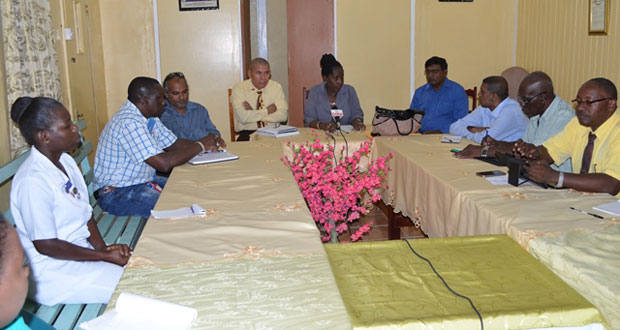 MINISTER of Public Health, Dr George Norton, visited Linden, Region Ten, on Friday last and met with the Linden Hospital Complex Board of Directors. The occasion allowed for members to state their concerns as they relate to the provision of quality health services in the Region.The Minister was accompanied by Permanent Secretary of the Ministry of Health, Leslie Cadogan; Deputy Permanent Secretary Trevor Thomas and Regional Executive Officer, Yolanda Hilliman.
The meeting was held at the Linden Hospital Complex boardroom, and was the result of a request by the board, to discuss pertinent issues before the life of the present group expires in June.
One of the main issues discussed was the matter of some staff members being employed by the Regional Democratic Council (RDC) and others by the Linden Hospital itself. This, according to some members, is posing a problem in the management
of the complex. Another issue addressed was the authority and legality of the board.
During brief remarks, after the conclusion of the meeting, Minister Norton said that the meeting confirmed that there are serious issues that need attention and clarity, and that the board was tasked with the duty of deciding whether or not it will treat the hospital as a corporation, like the Georgetown Public Hospital Corporation (GPHC), or a health authority, like the Berbice Health Authority.
"We've got two systems in place; there are deficiencies in these two systems. We hope the one that will be arrived at here in Linden will learn from these two systems, and they will choose that which is best for them," Minister Norton emphasised.
Norton said his ministry is depending on the board, which is doing a good job in
terms of staying together and trying to resolve issues, pertaining to the delivery of quality health services to the people of Linden and Region Ten.
He said the plan is not to "discard the old for the new or to break down to build up," but rather to improve on what has already been established.
"We want to see legislation that will guide the Linden Hospital Complex on the Order paper, on…how the institution should function, its duties, regulations and authority, and we will once and for all regularise the health situation in Region Ten," Dr. Norton was quoted by the Government Information Agency as saying.
The board agreed to meet and put forward a proposal and take it to the Minister who, in turn, will take it before the Cabinet.