JASON Edwards, 24, was yesterday morning stabbed in the throat and later succumbed after he and three accomplices reportedly attempted to invade the Kaneville home of his cousins. The incident reportedly occurred around 03:00hrs.According to information reaching the Guyana Chronicle, Edwards was earlier in the evening drinking at the very premises along with other family members as one of his cousins was hosting a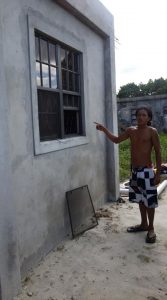 birthday 'drink' (celebration).
After the invitees left, the persons in the home retired to bed, but shortly after, they realised that the electricity to the home was disconnected. Upon further examination, it was also determined that the telephone wire which took phone service to the house was also disconnected.
Jimmy Thomas reportedly heard someone trying to gain entry to the home, and alerted another male family member. The two then ventured outside and began checking around the house.
One of them observed that someone was in the yard, and the intruder reportedly attempted to attack him, but he whipped out a knife and inflicted a stab wound to the man's neck.
After the man was stabbed, his three accomplices fled the scene, leaving him behind. On realising the quandary he was in, the injured man began crying out, while identifying himself as a relative of those who lived at the house. It was then that the folks at the home became aware of the intruder's identity.
The relatives immediately called the man's aunt, his father and other relatives and informed them of what had happened. However, that side of the family is not buying the story that Edwards was attempting to break into the home of his own kin, and according to an aunt and the father of the dead man, he was murdered by his cousin's husband.
Felice Edwards, who spoke with the Guyana Chronicle, related that her nephew does not get into any such activities, while other relatives are of the view that the man was influenced by the persons who were also in the yard.
Jason Edwards is the father of one child, and according to his relatives, his financee is pregnant, and expected to give birth anytime soon.
The Chronicle understands that the now dead man usually worked in the interior with the same relative whose home he attempted to invade. This newspaper was told that Jason had been out of the interior for about three months, while the other relative, who is now in police custody, has been out of the interior for the past five days.
The police investigations are ongoing as the search continues for the other three persons who were with the man during the attempted break-in.