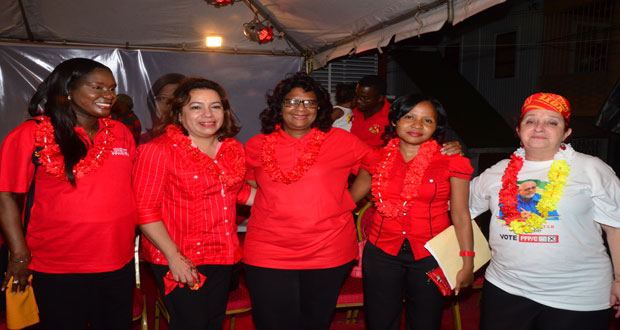 ATTACKS on Mrs Elisabeth Harper, the governing's party's prime ministerial candidate heading into the 2015 Regional and General Elections — especially those that focus on her domestic violence platform –- have been deemed by Human Services and Social Security Minister Ms Jennifer Webster a "facetious" move to score "cheap political points".
At yesterday's press conference held at Freedom House, Minister Webster declared that comments in this regard emanating from Moses Nagamootoo underscore "uncouth" character traits.
The prime ministerial candidate of A Partnership for National Unity + Alliance For Change (APNU+AFC) coalition railed last Sunday on Mrs Harper while making remarks at a rally held at Whim in Region 6 (East Berbice/Corentyne).
"Do you know me? Do you know who Elisabeth Harper is?" Nagamootoo questioned, while adding sarcastically, "Well, this Harper lady says she wants to be Prime Minister because she was a victim of domestic violence."
According to Webster, Nagamootoo's attack on Mrs Harper does not augur well in a society where efforts are being made to place increasing emphasis on women's rights.
"Our women are the backbone of our society. Our men must respect our women," she stressed, adding that equal rights in economic, political and social life have been the focus of empowerment of women.
Webster, like several other of her party colleagues, contend that Mrs Harper had, very early on, decided on the priority issues that would form part of her platform.
Additionally, the PPP/C prime ministerial candidate, in her debut interview, a 20-minute broadcast aired on the National Communications Network (NCN) in the latter part of February, had declared those issues dear to her heart when questioned by Olive Gopaul.
Mrs Harper is a 57-year-old career diplomat who has worked with the Ministry of Foreign Affairs for decades. She explained that her priorities as prime minister include: education, jobs, crime, support for the elderly, economic growth, and the preservation of Guyana's sovereignty and territorial integrity. Those are not one issue, as insinuated by Nagamootoo.
During the interview, the last issue out of seven Mrs Harper had touched on was that of domestic violence -– the subject of a story she has been able to tell, and has vowed she will continue to tell she if it means support for another woman.
"Domestic violence is real," Mrs Harper declared. She added, "Me being able to tell my story, I feel that I could encourage women and interest groups in society to help to rid us of this; also help young women who are looking for role models (and) who are looking to empower themselves."
Her sentiments were expressed with the same confidence as when she commented on being able to emerge after the May 11 General and Regional Elections as Guyana's first female prime minister. She had said then, "This is for all the women out there who see me as the first woman Prime Minister."
Harper explained that, altogether, these seven issues are major ones that, with the appropriate continued focus, can complement the overall effort to ensure that Guyana is a country within which Guyanese youths remain and enjoy good lives, as well as contribute to Guyana's development.
PPP General Secretary Clement Rohee also dismissed Nagamootoo's comments last Tuesday.